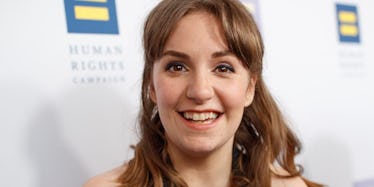 Lena Dunham's Planned Parenthood Pin At 2017 Met Gala Sends A Clear Message
Getty Images
Ahead of her Met Gala arrival, Lena Dunham took to Instagram to share one of the most important aspects of her ~lewk~ and though it may not be the kind of addition that'll immediately turn heads, it'll definitely leave people talking. Lena Dunham's Met Gala Planned Parenthood pin shows that fashion is political, just in case anyone had any lingering doubts about that.
Dunham has been an outspoken advocate for women's rights and access to affordable healthcare, and Monday night's Met Gala stands as yet another example of  her commitment to the continued fight for universal rights for all.
Though she was a clear supporter of Hillary Clinton's candidacy for president in the 2016 presidential election, Dunham (like so many others) has not been backed into silence (or compliance) just because her candidate of choice did not get the ending she wanted. Instead, Dunham has used the election of President Donald Trump to stress, refine, and zero in on the causes that mean and matter the most to her. (For context, Dunham tweeted in 2015: "Planned Parenthood has stood by women and their families for nearly 100 years. Now it's our turn to #standwithPP.")
There will undoubtedly be many who'll scoff at Dunham's use of the Met Gala to make a political stand in support of a cause that's proven to be a polarizing example of the vast differences between the American public, but Dunham's PP pin highlights just one of the ways women choose to organize to stand up to policies they don't believe in.
As for those who believe fashion can't be political, allow me to point you in the direction of Beyoncé's 2016 Super Bowl halftime performance, where she honored the work of the Blank Panther movement; or maybe the example of Hillary Clinton in white at the Inauguration of Donald Trump in January 2017 would prove a far better, more recent example.
Where words fall short — like they do again and again and again in our current climate — or when they are not enough, fashion is how we communicate. It sends a message; it is our literal best foot forward. And on a night when so many are tuning in for some much deserved shameless fun, Dunham's pin forces us to reconsider the privilege in doing so. Of course, Dunham isn't a perfect example — she's not without her own controversy — but her message is clear: the time to turn a blind eye, to ignore, to pretend... the right to do so no longer exists.
We need to act.