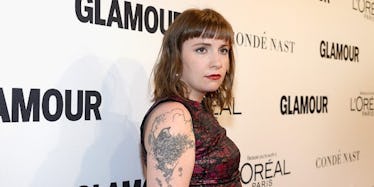 Lena Dunham Is Taking A Break For Her Personal Health And DGAF What You Think
Getty Images
After a six-season run on Girls, a Golden Globe win and a trail of political activism, Lena Dunham is hitting the pause button.
The actress and writer has had a lot on her plate for the past five years, since her student film Tiny Furniture caught the attention of HBO execs and her Girls writing partner/producer, Judd Apatow.
But recovery time is for the "weak." In a media culture that often rips celebs apart for the validity of seeking medical treatment for "exhaustion," and in the American culture that laughs at the idea of a four-day workweek, we're often encouraged to test our limits -- and then fall over the edge of them.
These standards are even worse for women. In the United States, one in four mothers return to work just two weeks after giving birth. OBGYNs recommend six weeks as a national average, which can still have harmful effects on both mother and baby. Women are also less likely to get paid time off.
Earlier this month, reports claimed Dunham was rushed to the hospital from this year's Met Gala following complications from her endomentriosis. It was later revealed that she was rushed to the hospital due to a ruptured ovarian cyst.
In a post published today by her newsletter, Lenny Letter, Dunham writes of her health scares and also the self-realization that time off was not only a good idea, but necessary for her.
She also touched on the idea of "weakness." Dunham wrote,
I've always been open with you all about the challenges I've been dealt with my health, even when it's scary and embarrassing, even when it makes me feel weak or less than [...] To be perfectly honest, I'm in the greatest amount of physical pain that I have ever experienced.
Dunham was set to go on tour from May 31 to June 6, along with Lenny partner Jenni Konner, Sasheer Zamata, Waxahatchee, Jaqueline Novack and more.
The goal of the tour was to "bring laughter, poetry, passion, and community to you and your friends," according to a post published in April on Lenny.
The tour, which was slated to hit various states in the midwest, has been fully cancelled with the promise of a full refund. She also mentioned that "personal donations" would be made to charities that previously agreed to sponsor the tour.
She said:
I'm gonna say "Eff you" to embarrassment and walk the walk of a woman who really takes care of herself. My goals have to be simplified for this moment: to write and to heal.
Serious kudos to Dunham for saying "Eff" the haters, and doing what feels right for her. Policing women's bodies -- and how they manage their personal health -- is not up for debate.
Dunham continued,
In the meantime, I encourage you all to gather your girls for evenings of dissent and laughter and wine and analysis and bingeing of Fleabag and Chewing Gum. Holding each other close and giving of ourselves is the most radical thing we can do right now.