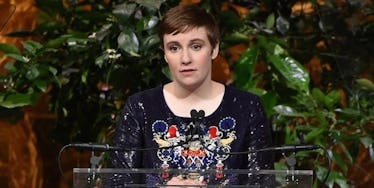 Lena Dunham Opens Up About Being Raped And Not Being A 'Perfect Feminist' (Video)
Lena Dunham knows you're guilty of singing along to misogynist song lyrics and calling your girlfriends "bitches." She's done the same.
During Variety's Power of Women luncheon on April 24, Dunham gave an emotional speech delving into her own emotional journey as a rape victim, and she advocated GEMS, a nonprofit designed to aid victims of sexual exploitation.
Although no woman is a perfect role model, Dunham explained the problematic -- and very practical -- effect of using terms that take power away from women instead of giving it back.
Citations: Lena Dunham Relives Her Rape During Acceptance Speech I Felt Powerless (People )