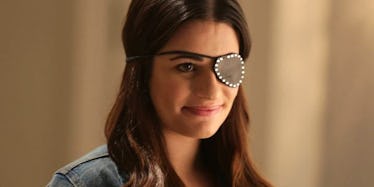 Lea Michele Is Officially Leaving 'Scream Queens' For Something Even Better
20th Television
Bad news for "Scream Queens" fans: Lea Michele will not be returning to her role as Hester Ulrich if the show gets a third season, according to a report from Deadline.
But good news for Lea Michele and "Hamilton" fans: The 30-year-old actress is joining a brand new show on ABC from "Hamilton" actor Daveed Diggs.
The half-hour comedy doesn't yet have a title, but will center around a struggling hip-hop artist who runs for city mayor in an effort to get the word out about his mixtape. And wouldn't you know it, he wins the election!
The untitled series is executive produced by Daveed Diggs (aka Jefferson/Lafayette in the original "Hamilton" cast), written by Jeremy Bronson and will star "Search Party's" Brandon Micheal Hall.
It's not yet clear if Hall will also return to his regular role on TBS's "Search Party," which stars Alia Shawkat and was recently renewed for a second season.
Michele's role in the project has not yet been revealed, but Deadline reports she will "co-star" alongside Hall. And considering she quit "Scream Queens" for it, we're guessing it's pretty major.
With a Tony-winning Broadway star as an executive producer and a former "Glee" star in a lead role, it seems likely we'll hear Michele's singing voice again real soon.
That's worth sacrificing Hester, right?
We don't yet know how Michele's character will be written off in season three of Ryan Murphy's horror show on Fox. In fact, we don't even know if there will be a next season at all yet.
(But let's be honest, there probably will. Any show with Emma Roberts is safe from the network axe.)
But personally, if we do get season three, I'll be fine with saying goodbye to Hester — as long as we get John Stamos and Taylor Lautner back in their sexy doctor roles.
Citations: Lea Michele Cast In ABC Mayor Comedy Pilot; What About 'Scream Queens'? (Deadline)