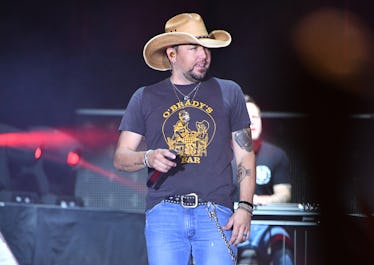 Celebrities Respond To Las Vegas Shooting On Social Media & It's Heartbreaking
On Sunday, Oct. 1, a gunman opened fire at a concert in Las Vegas, Nevada. With 50 people dead and approximately 400 injured, the shooting is now being considered the deadliest in modern United States history. Support for Las Vegas poured out around the world early Monday morning. Many celebrities responded to the Las Vegas shooting on social media.
UPDATE: Las Vegas Police Department Sheriff Joe Lombardo has confirmed that at least 58 people were killed and over 515 were injured in the shooting. The shooter has also been confirmed dead and is not believed to have a connection to any terrorist group.
EARLIER: Country music singer Jason Aldean was performing Sunday night when shots were fired at the Route 91 Harvest Festival. The gunman rapidly fired bullets onto the outdoor music festival crowd of around 22,000 people from his hotel room on the 32nd floor of the Mandalay Bay hotel. The shots sent thousands of people desperately running for their lives. A witness explained the horrific event in Las Vegas to MSNBC:
We heard what sounded like firecrackers going off. Then all of a sudden we heard what sounded like a machine gun. People started screaming that they were hit. When we started running out, there were probably a couple hundred [people] on the ground.
According to The New York Times, the Las Vegas SWAT teams were immediately sent to the hotel where the shooter was on Sunday night. Soon after, police reported that "one suspect is down." Police believe there aren't any more active gunmen.
Jake Owen, a country singer who was on stage with Aldean when the shooting began, told CNN it was like "shooting fish in a barrel from where he was." Owen thanked the Las Vegas Police Department, saying,
Gun shots were ringing off of the stage rigging and road cases. No one knew where to go..thank you LVPD and responders for keeping us safe.
 Jason Aldean posted this photo of the words "Pray for Las Vegas" on his Instagram early Monday morning after the terrifying attack late Sunday night. The country star wrote,
Tonight has been beyond horrific. I still dont know what to say but wanted to let everyone know that Me and my Crew are safe. My Thoughts and prayers go out to everyone involved tonight. It hurts my heart that this would happen to anyone who was just coming out to enjoy what should have been a fun night. #heartbroken #stopthehate
Harry Styles took to Twitter to send his "thoughts" to the victims. He wrote,
Ryan Seacrest felt "heartbroken and in disbelief" over the tragedy.
Nick Jonas sent prayers to the Las Vegas community and is "devastated" by the news. He wrote,
Devastated waking up to the news of the shooting in Las Vegas. Praying for the victims and their families and friends. #PRAYERSFORVEGAS
Kelly Clarkson's "heart is breaking" over "so much loss." She wrote in a tweet,
Khloé Kardashian expressed shock in a tweet on Monday morning.
I can't believe this!! The deadliest mass shooting in US history! My sincerest condolences to everybody there! My prayers are with you!
 Singer Adam Levine wrote a heartfelt message on Instagram early Monday morning. The star wrote,
My heart is broken. I am sick with sadness for all those suffering in Vegas...and what remains of my broken heart belongs to you in this moment.
Kourtney Kardashian said she is "praying for Las Vegas" in a tweet.
Model Gigi Hadid took to Twitter saying "I feel like every day is more shocking and sad." She also sent a message to the victims in Vegas,
My heart is broken for all of the victims of last night's shooting in Vegas, & their families."
Ariana Grande took to Twitter to express the need for "love, unity, peace, gun control." The singer tweeted,
Taylor Swift shared her feelings of "helplessness and sorrow" in a tweet on Monday.
Singer Kevin Jonas shared his thoughts on the mass shooting, professing "music should always be a safe place."
This shooting is now recognized as the deadliest mass shooting in U.S. history, surpassing the horrific incident at the Pulse nightclub in Orlando, Florida, that left 49 people dead in 2016. We are all keeping the victims, their families, and the Las Vegas community in our thoughts and prayers.
Facebook has set up a crisis response page to help people determine whether their loved ones are safe. Visit the page for more helpful information.