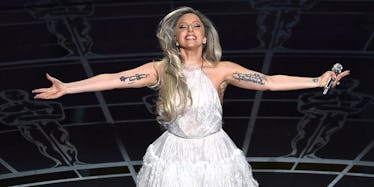 Lady Gaga's 'Sound Of Music' Tribute At The Oscars Was Next Level (Video)
One of the highlights of last night's Oscars was Lady Gaga's performance of a number of songs from the classic film "The Sound of Music."
Gaga sang four songs to be exact.
They were "The Sound of Music," "My Favorite Things," "Edelweiss" and "Climb Ev'ry Mountain."
It was the 50th anniversary of the film's release and Lady Gaga did not disappoint. She crushed every song she sang.
She did such a good job, she made Julie Andrews proud. Andrews, of course, was the woman who sang those songs in the film all those years ago.
Andrews came on stage following the performance, hugged Gaga and complimented her amazing singing. You can see and hear it all above.
Citations: Lady Gaga Climbs Every High Note in Sound of Music Tribute (Rolling Stone)