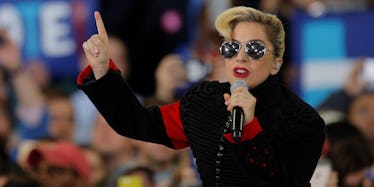 Lady Gaga Protested Outside Trump Tower On Election Night: 'Love Trumps Hate'
REUTERS
Lady Gaga will continue fighting for what she believes is right.
Late last night, while the world was watching America elect Donald Trump as their leader, Lady Gaga was protesting outside Trump Tower in New York City.
The 30-year-old pop singer was seen around 3 am on Wednesday morning on Fifth Avenue standing on a sanitation truck with an American flag attached to her hip and holding a sign that read, "Love trumps hate."
The pop star then tweeted a picture of herself protesting on her official Twitter page, writing,
I want to live in a #CountryOfKindness where #LoveTrumpsHate.
I want to live in a #CountryOfKindness where #LoveTrumpsHate pic.twitter.com/Eni145YgW1 — #CountryOfKindness (@ladygaga) November 9, 2016
Lady Gaga has been an outspoken supporter of Hillary Clinton for the 2016 presidential election.
On Monday, she attended the Democratic nominee's rally in Raleigh, NC, and MSNBC political correspondent Kasie Hunt reported the singer was crying backstage at Hillary Clinton's election party last night at Javits Center in New York City.
Others reported seeing Lady Gaga crying in her car after Donald Trump was officially named the next president of the United States.
Hours earlier, on Tuesday afternoon, Lady Gaga posted a video on her Twitter calling out to her fanbase in swing states to vote.
In the video, she said,
Hey little monsters in Wisconsin, Pennsylvania, New Hampshire, Minnesota, Ohio, Iowa, Virginia, Florida, Michigan, Nevada, Colorado and North Carolina — you better get out and vote before those polling doors close. Love ya, it's Lady Gaga calling.
RT and spread this message Monsters! It's election KRUNCHTime and EVERY VOTE counts! #ElectionDay #Elections2016 #GoVote #Vote pic.twitter.com/tDp628xJs1 — #CountryOfKindness (@ladygaga) November 8, 2016
Lady Gaga's perseverance and unwillingness to give up on this fight is certainly inspiring. She has my vote for the next totally inexperienced and unqualified president.
Unfortunately, Lady Gaga has no real power in the government. That all belongs to Trump and his supporters now.
Citations: Lady Gaga Protested Outside Trump Tower This Morning (Refinery29)