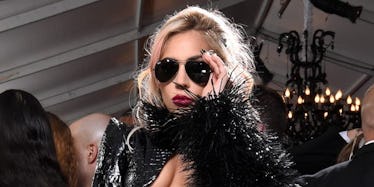 Lady Gaga Caught Having Major Makeout Sesh With New BF In Steamy Pics
REX/Shutterstock
It seems like Lady Gaga officially has a new boyfriend, based on the fact that she has been making out in the street with him.
Honestly, if anyone deserves to have her face made out with on a street corner, it's Lady Gaga.
Which is why I couldn't be more thrilled to present you these photos of Lady Gaga firmly planting her lips upon the lips of talent agent Christian Carino.
So, without further ado:
TA-DA! Lady Gaga's face on Christian Carino's face. Just look at that expert technique!
It appears the two were at a fancy party at the Sunset Tower Hotel in West Hollywood on Sunday night.
They also held hands, which is sweet and adorable and all that jazz.
But let's get back to the good stuff: The mashing of the faces against each other.
Sorry, Taylor Kinney! If you wanted to hold on to that, you should have given her a good reason to stay.
If you're wondering who the heck this Christian Carino guy is, that's a very fair wonder to have.
Basically, he's a talent agent who represents a number of big-name clients, including Justin Bieber, Jennifer Lopez and Amber Heard.
We first realized there was probably something going on between Christian and Gaga at the 2017 Super Bowl, when they were seen getting affectionate before the halftime show.
Since then the two have been seen out and about several times together.
No one's saying it's love, but for Gaga's sake, I hope it isn't an illusion this time.
Gaga and her former fiancé, Taylor Kinney, ended their relationship last July, which Gaga announced in the most heartbreaking Instagram breakup post I've ever read.
She wrote,
Taylor and I have always believed we are soulmates. Just like all couples we have ups and downs, and we have been taking a break. We are both ambitious artists, hoping to work through long-distance and complicated schedules to continue the simple love we have always shared. Please root us on. We're just like everybody else and we really love each other.
Even though Gaga called it a "break" and asked fans to root for them, it doesn't look like the ex-couple will be reuniting anytime soon.
Well, whatever. Gaga's a free bitch, baby.