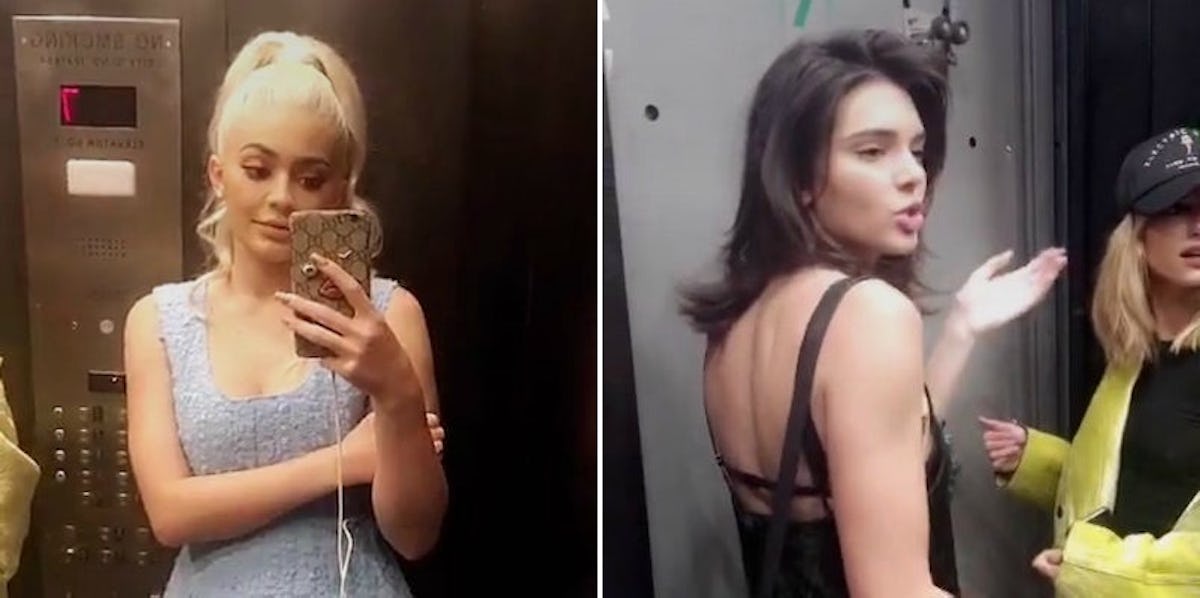 Kylie And Kendall Jenner Got Stuck In An Elevator And Had to Be Rescued
Snapchat
Have you ever wondered what one day in the life of Kendall and Kylie Jenner would be like?
First, you'd probably be waking up with a giant smile on your face because everyone loves you, and you have your own cosmetics company.
Then you might have to strut your stuff across a couple of catwalks and channel your inner Kendall.
But what you might not expect is getting stuck in an elevator during NYFW.
That's exactly what happened when 19-year-old Kylie and 20-year-old Kendall Jenner were riding in an elevator and got stuck with a bunch of their friends.
In addition to being rescued by a group of skilled FDNY superheroes, they obviously documented their traumatic experience on Snapchat (duh).
As if their lives couldn't get any more hectic, both Kendall and Kylie got stuck in an elevator in New York City during NYFW.
Kylie Jenner doesn't look like she was taking this whole "stuck" thing too well!
Thanks to Snapchat, we can all feel like we were there.
As you can see, Kylie was starting to FREAK. OUT.
If you've ever been stuck in an elevator, you can totally relate.
Oh hey, Kendall!
She doesn't look so happy.
I also spy Hailey Baldwin.
Yup, it certainly is.
Kylie's BFF Jordyn Woods was also at the stuck elevator party.
Hey, if you're going to get stuck in an elevator, it should be with your favorite people. Am I right?!
At one point, they had to sit on the floor of the elevator and hope for the best.
Waiting...
Still waiting...
COULD IT BE?!
Yes, it certainly is. Help is finally here!
Eventually, after about 30 minutes, the FDNY showed up to rescue them.
But first, it was selfie time, of course!
There you have it, folks. Even when you're Kendall and Kylie Jenner, you're still prone to getting stuck in elevators just like the rest of us...
Despite how "scary" and extremely stressing on the legs this entire experience might have been, the Jenner girls should just be thankful they aren't the lady who was stuck in an elevator back in February and just had her call for help answered seven months later.
Both Kylie and Kendall have yet to speak on their elevator episode aside from their Snapchat coverage, but Kylie Jenner did retweet this:
Fair enough.