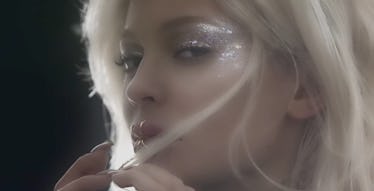 Kylie Jenner Is In A New Video Featuring Travis Scott & It's So, So Weird
Youtube
Can anyone actually keep up with the Kardashians, or is everyone just too deep into this lie to back out now? As you guys have heard and heard, Kylie Jenner is reportedly pregnant with her boyfriend Travis Scott's baby and it's freaking everyone out. Elite Daily reached out to Jenner and Scott's teams for confirmation but did not hear back by the time of publication. Nothing has been confirmed, BUT nothing has been denied, and in the meantime, the Kardashians -- including Jenner -- are busy trying to distract us all from the big news. For example, I just stumbled across Jenner's new "Sheer" video featuring Scott's music and it's the weirdest sh*t I've ever seen. What is the meaning of "Sheer"? GREAT. QUESTION.
Here's what I gathered as a totally unprofessional, biased pedestrian. In the video, Jenner is rocking a series of platinum wigs and lots and lots of weird-ass lip jewelry. The music track playing is Scott's "Goosebumps," dropping the most sensual lyrics like, "I get those goosebumps every time, I need the Heimlich" and "that p*ssy to die for." If I had to make a wild guess, I'd say "Sheer" is designed to celebrate the female form, metal, and... I don't know... wind?
Here are four minutes of your life you'll never get back. You tell me.
Lots of wind, right?
Apparently, the video is part of a much larger project Jenner is participating in with V Magazine and SHOWstudio, the "home of fashion film and live fashion broadcasting," whatever that means. As described on SHOWstudio's website,
SHOWstudio aims to reveal every part of the photographic process, from innovative sets and astute styling to unusual photography techniques and breathtakingly unique models. With this in mind, Nick Knight unites with reality-star Kylie Jenner for V Magazine in an aim to showcase this new revolutionising figure in a high-fashion setting. ... Here, Knight appeals to a new wave of fans and followers of fashion by capturing Jenner's unique, hourglass-to-the-extreme physique. Stylist Anna Trevelyan highlights Jenner's notoriety for exhibition through her selection of diaphanous garments. These sheer and translucent items serve to expose Jenner's custom silhouette that has rattled the media and -- as some might argue -- altered a contemporary perspective on the female form.
First of all, thank you for bringing awareness to the word "diaphanous." Second, I wasn't too far off. In so many words, it sounds like this team gathered around mega-icon Jenner to promote their individual artistry, which includes fashion and photography.
Jenner teased the project at the end of August on her Instagram account but gave us very little information. As for Scott's involvement, something tells us she had a lot to do with it.
In her recent solo series debut, Life of Kylie, Jenner is regularly jetting off to meet Scott at his shows while he performs around the country. While she remains tight-lipped on the details about their budding relationship, it's clear she's crazy for him.
Now, with the maybe-baby news, all eyes will be even closer on the duo as we wait to see if a mini Jenner is on the way.
A source told People that Jenner's family still has their guard up around Scott, as the relationship is so new. The source claims they want to make sure it isn't another "Blac Chyna situation," reportedly meaning they want to make sure he's in this for the long haul and not just for the fame that comes with being a Kardashian/Jenner significant other.
Whatever happens, we can't deny Jenner's physique is totally glamorous in the video, and I may or may not have googled "metal lip branches." (Don't recommend.)
Check out the entire Gen Why series and other videos on Facebook and the Bustle app across Apple TV, Roku, and Amazon Fire TV.