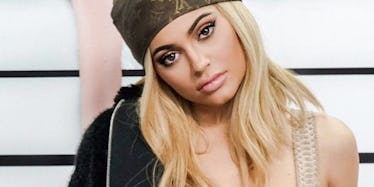 Fans Are Calling Out Kylie Jenner For Copying Rihanna And The Tweets Are Brutal
YouTube
We all know Rihanna has been a major style icon since basically forever. However, Twitter is calling out Kylie Jenner for borrowing too much of her own look from RiRi. According to fans, she's straight up stealing her style.
Take a chill pill, Twitter. If I had the money, I would be copying every single one of Rihanna's outfits. Why do you think I buy $100 fuzzy Puma sandals? TO BE LIKE RIHANNA.
Both Jenner and Rihanna are major fashionistas. RiRi has been heavily involved with fashion, even in her younger years.
Since 2011, here are brands Rihanna has worked with, according to Vogue:
Armani Jeans and Emporio Armani Underwear
River Island
Balmain
Dior
Puma
Manolo Blahnik
LVMH
Chopard
Those are brands she had a hand in designing items or entire collections for. This doesn't even include her fragrances, preferred brands, and close relationships with designers like Karl Lagerfeld and Stella McCartney.
Now, let's reflect back on Kylie for a second. She also happens to work closely with many of these brands.
Like Balmain
Balmain is one of Jenner's go-to brands. She often wears it to events, like this iconic skin-baring purple number.
Both Ladies Have Their Name On Puma
Both Rihanna and Kylie Jenner have worked to create signature products for Puma.
And Dior
Rihanna and Jenner both have strong ties to Dior and their own sunglasses collection through the brand. In fact, the photo above is Kylie rocking a pair of Rihanna's frames.
Whether it's admiration or supporting another female in the industry, I don't really see anything wrong with this. They work with a lot of the same brands and have similar taste in clothes — their styles are bound to overlap.
However, Twitter is so extra, and people had a lot to say about it.
Fans are accusing Kylie Jenner of stealing Rihanna's ideas.
However, some people are Team Kylie.
Others are Team RiRi.
At the end of the day, we love them both.
Instead of pitting female celebrities against each other, let's celebrate that we have two fab fashion icons to look to for inspiration. Keep doing you, ladies.