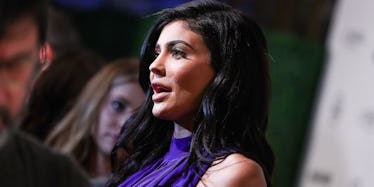 Kylie Jenner Made These Little-Known Songs Hits Just By Snapchatting Them
REX/Shutterstock
Kylie Jenner is like the Midas of Hollywood. The second she touches anything it automatically turns into straight-up $$$$$$.
The youngest Kardashian-Jenner core family member has solidified herself as the queen of Snapchat over the past few years.
While Kim tries to break the internet and Khloé continues to teach the world how to get back at your ex by having a hotter body, Kylie has mastered the art of recording herself for a few seconds at a time while an app throws dog ears on her head.
The value of someone's Snapchat is hard to measure, though. You can really only see how many people watched your story, which isn't the best way to determine the dollar value of an account.
Thankfully, someone figured out a very specific way to calculate how big of an impact Kylie Jenner's Snapchat actually makes, and it's pretty cool.
According to a report on Genius, any time Kylie Jenner plays a relatively unknown song on her Snapchat, it sees a massive boost in popularity.
For instance, in 2014, British rapper G FrSH released his single "Panic Cord," a song that was obviously not that big of a game changer for the rapper's career when it came out.
In January, Kylie played it on her channel and it saw a 319 percent bump in Google popularity.
This wasn't a fluke.
When Kylie played Ramriddlz's "Bodmon" on her channel, it saw a 299 percent bump.
MadeinTYO's "Uber Everywhere" shot up 345 percent on Google trends, and Russ' "Pull The Trigger" saw a 232 percent jump in popularity, both after Kylie showcased their songs in her snaps.
Those weren't even close to the most impressive examples of the Kylie Effect on songs.
Mickey Shiloh's "Drunk on theMic,"Ramriddlz's "Hey Mr. RamRod" and Harry Hudson's "Stop" experienced a jump of 28,000 percent, 194,200 percent and 15,333 percent respectively, after Kylie showcased them on her SnapStory.
Long story short, Kylie Jenner is Snapchat's resident kingmaker.
Citations: How Kylie Jenners Snapchat Turns Songs INto Hits (Genius)