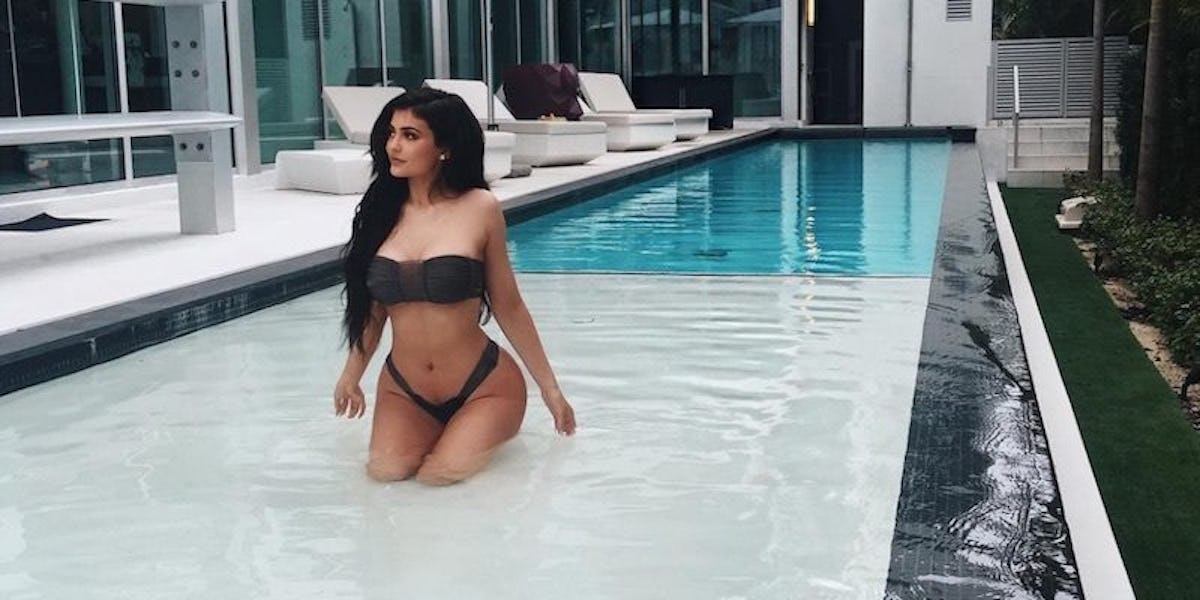 Kylie Jenner Shows Off Her Dangerous Curves In Sexy New Bikini Photos
Instagram
With Kylie Jenner hanging out in Miami this weekend, it's quite expected that we're in store for an endless supply of sexy selfies.
The 19-year-old cosmetics mogul and reality TV star is soaking up the Miami sun at Art Basel with her boyfriend Tyga.
I'll admit, it's kind of difficult to even tell that Tyga's around because Kylie posted a couple of breathtaking selfies, and he's nowhere to be found.
At this point, it's safe to assume he's the cameraman!
Kylie took to Instagram to show off her glamorous lifestyle in which she works SUPER HARD on her Kylie Cosmetics brand so she can lie around on lounge chairs during her off-time and show off her curvy body.
Perhaps the best part about the photo is that she captioned it with a simple palm tree emoji because she knew no one was going to read that shit anyway.
Are you ready for this? Probably not.
Behold Kylie Jenner showing off her dangerous curves in Miami during Art Basel.
As if the first photo wasn't enough, she gave the haters another angle just in case they thought it was Photoshopped.
Kylie Jenner's fun day in the sun -- or under the clouds, rather -- was followed by a night out on the town.
So, at this point, you're probably wondering what Tyga's been up to...
Well, he's seemingly been firing subliminal shots at rapper 21 Savage who publicly disrespected Tyga's relationship with Kylie after telling reporters he would "tear" Kylie's "ass up."
Just before posting the sexy photos for her loyal fans, Kylie Jenner shared a bunch of Snapchats of her wearing nothing but fishnet stockings.
When I say nothing, I mean NOTHING. She even posted a picture of her butt to prove she had nothing on underneath the stockings.
Um, Kylie, what the hell are you trying to do us? Heart attacks are not cool.
Citations: Kylie Jenner Showcases Cleavage, Curves in Bikini in Miami — See the Sexy Snaps (US Magazine)