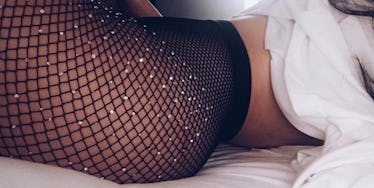 Kylie Jenner Posts Snapchats Of Her Bare Butt Wearing Only Fishnet Stockings
Instagram
VA-VA-VA-VOOOOOOM! HELLO, KYLIE JENNER!
While Kendall was overseas walking down the Victoria's Secret Fashion Show runway, her little sister was making straight-up magic happen on Snapchat.
While there is no nudity in this story, I'm going to suggest you don't open this up at work. It's a lot of legs and a lot of fishnet stockings, and I'm pretty sure she isn't wearing underpants.
It's not exactly the kind of stuff you want to be looking at when your boss walks by.
Plus, there is a good chance these three snaps will turn you into a cartoon dog who just witnessed a hot nurse walk into the room.
Your eyes will pop out of your head, your jaw will drop and your tongue will rolling-carpet its way out of your mouth.
Anyways, are you home? Great.
CHECK THESE GAMS OUT!
HAGITA HAGITA! AWOOOOOOOOOOOOOOOOOGA!!!!! OW OW OW OW!!!!!!! HELLOOOOOO NURSE!!!!!! GAME DAY BUCKET GO BOOM!!!! MMMM MMMMM GOOD!!!! OVER 1 MILLION SERVED! CHA CHA CHA CHARMIN!!!!!
BOING-OING-OING-OING! *BOAT HORN*!!!! WOOO WOOO WOOO WOOOOO!
Are fishnet stockings back in? How do we make fishnet stockings a thing again?
Make America Fishnet Stockings Again. If anyone can start a movement like this, we know it's King Kylie Jenner.
Everyone go hydrate up. There is a good chance you just sweated out your entire body's water supply just by clicking this link.
This is far from the first time Kylie has turned her Snapchat into a semi x-rated look into her private life, by the way.
For instance, there was the time she took a butt selfie while laying on top of Tyga at what seems to be an airport terminal.
And there was that time everyone thought she got a boob job after she posted this Snapchat story.
Keep using your Snapchat as your extremely up-close and personal diary, Kylie!