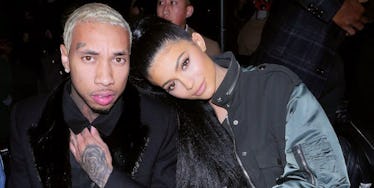 Kylie Jenner Is Secretly Bailing Tyga Out By Paying Off His Debts, Source Says
REX/Shutterstock
Fresh off of a vacation in Turks and Caicos with Kylie Jenner for her birthday, Tyga returned to Los Angeles without having to worry about being arrested at the airport.
The 26-year-old rapper had a warrant out for his arrest after he failed to show up to a court hearing regarding a dispute over failed rent payments on his Malibu home. The judgement required that Tyga fork over $480,000.
In the midst of all the drama, even Kris Jenner expressed how worried she was about Tyga's legal problems and how they might affect 19-year-old Kylie Jenner.
Luckily for Tyga, he sorted out his legal issues with his landlord before returning home from Turks and Caicos, which resulted in him NOT being arrested.
However, following the settlement, there are other people out there saying that Tyga still owes them money despite claims that Kylie has helped him pay off other debts.
In a recent interview with HollywoodLife, an insider revealed,
Kylie was being nice by fronting Tyga money to help him with one of his financial problems, but in doing so, it may have backfired. Now, people are coming after Tyga left and right trying to collect money that he allegedly owes.
The report also states that debt-collecting creditors have been contacting Tyga nonstop following the news of his latest settlement. The source went on to say,
She feels bad for Tyga and feels like he can't catch a break.
Yeah, I can totally see why Kylie Jenner would feel bad for her boyfriend and his ongoing financial issues but you have to wonder where Tyga's priorities are...
I mean, didn't he JUST buy her a brand new $220,000 Mercedes-Maybach for her birthday?!
On top of that, TMZ reported that after hearing about Tyga's settlement with his landlord regarding his home in Malibu, a celebrity jeweler is claiming Tyga owes him $200,000 for a luxury watch and a necklace he purchased back in 2013.
The jeweler is reportedly hiring the same lawyers Tyga's landlord hired to reach a settlement.
However, according to the previous source, it looks like Kylie's got Tyga's back for this too. The source added,
He hasn't asked her for one cent and she loves that independence, but she's secretly going to help Tyga get out of this mess if he really does owe more people. The last thing she wants is for her man to suffer when she has so much money at her disposal.
For the sake of Kylie Jenner's mental health, let's just hope Tyga doesn't actually any have more debt lingering around.
Citations: Kylie Jenner & Tyga: She's Digging Deeper Into Her Pockets To Help Save Him From Debt (Hollywood Life)