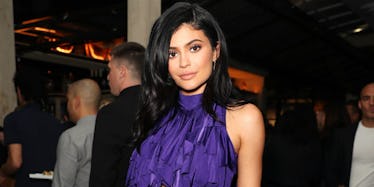 Kylie Jenner Hints At A 'Secret Project' With Series Of Sexual Pictures
REX/Shutterstock
Shh, Kylie Jenner has a secret and she's not telling a single soul... yet.
The lip kit mogul posted a slew of pictures on Instagram on Friday, and some seemed to hint at a secret project that's coming up.
#SecretProject? More like #JustTellMeKylieIWon'tTellAnyone.
In a group of three pictures, Kylie wore her classy, blonde bob wig and a gold slip dress and yeah, that's about it.
As the age-old saying goes, less is more.
Kylie also used some sort of app that turns your photos into pictures that look like Polaroids. Perhaps Kylie's secret project involves buying a majority share in Polaroid stock?
Here's Kylie grabbing her breast while looking at the camera over her shoulder, which is exactly what I would nervously do in a police lineup.
Whoa, camera. Kylie's eyes are up here.
Oh, but when I decide to wear a blonde wig and a golden slip dress, everyone says to me, "What are you doing in my house? It's 3 am. I'm calling the police."
Boom, that's a double standard.
Kylie also decided to don an athletic jumpsuit and while the hashtag #SecretProject is noticeably missing from these pics, the photos still have that Polaroid look.
Wait a second, where have I seen this outfit before?
Oh, that's right -- "The Hunger Games: Catching Fire."
Kylie also posed in front of enough Hermes boxes to buy the country Greece, where the deity Hermes originated from.
The above picture has since been removed from Kylie's Instagram -- was it because the pic was Photoshopped as one commenter has suggested?
It's a mystery.
Speaking of mystery, while there is a great air of it ("it" being mystery... how about that segue, huh?) around what the secret project will be, some think it could be another collaboration with photographer Sasha Samsonova.
Sasha is responsible for that sultry video shoot Kylie had with Tyga.
Some have even guessed the project might involve Moises Arias.
Time will tell. For now, we just have to trust the fact Kylie will tell us whenever she's ready.
Until then, we're all ears.
Citations: Blonde moment! Kylie Jenner flaunts her cleavage in tiny negligee while teasing secret new project (DailyMail.com)