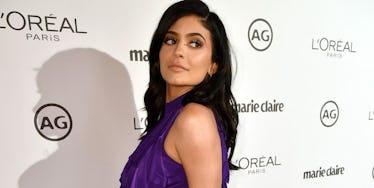 People Are Pissed At Kylie Jenner For The Names Of Her New Makeup Products
REX/Shutterstock
Kylie Jenner's cosmetic brand is, once again, in a bunch of hot water.
The social media star and reality TV maven released some new blush colors this week that are making her more conservative followers fan themselves off while muttering "Bless my stars..."
THESE ARE NSFW WORDS! DO NOT OPEN UP IN FRONT OF YOUR GRANDPARENTS!
The new products being added include the too-hot-for-TV colors named "X Rated," "Barely Legal," "Virginity" and "Hot And Bothered."
They also include a color called "Hopeless Romantic," a sort of sweet hat-tip to people that don't want to shmear something that sounds like the title of an HBO After Dark movie on their face.
She captioned the post,
BLUSHES!!! I'm beyond excited to welcome these to the Kylie Cosmetics family! I'm obsessed with blush and it's a dream that I can finally have MY OWN! can't wait for you guys to experience these build-able Matte beauties! They launch this Friday at 3pm pst only on KylieCosmetics.com @kyliecosmetics check out my snap to see a more xx
A few people are not thrilled with the choice to give the colors such provocative names.
Are these titles just too much to call products geared towards younger women?
On a weirder note, many are actually saying that the blush names are meant to chronicle the stages of her relationship with Tyga.
Cool? I have no idea what I'm supposed to do with this info except think to myself "Go her, I guess."
I'm a guy who doesn't put on makeup but I am utterly fascinated by the amount of shit Kylie's makeup company stirs up. This isn't even the first controversy they've gotten into this month.
Last week, customers of the makeup brand were livid after they were shipped empty boxes of Kylighters.
Keep stirring that friggin' pot, Kylie!
Citations: Kylie Jenner's 'Barely Legal' & 'X Rated' New Blushes Are Up There With These Controversial Makeup Names! (Perez Hilton)