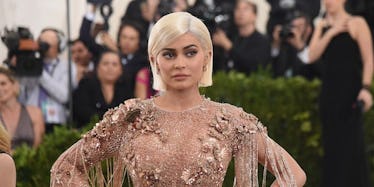 Kylie Jenner Answers Everyone's Prayers With Her First-Ever Contouring Palette
Nicholas Hunt
Kylie Jenner is the 19-year-old who keeps on giving.
There are so many things on the horizon for krazed Kardashian-Jenner fans to sink their teeth into: Kylie's new reality show, new relationship, and of course, new Kylie Cosmetics products.
We can officially confirm that Christmas has been moved to May because our girl has gifted us with her first-ever contour palette kit, which will become available on May 31 at 3 pm PST.
If you thought you were limited to bizarre lip colors, you're sadly mistaken — Kylie's got you.
But we wouldn't be here without miss Khloé Kardashian, so remember to thank her, too.
The dynamic duo decided to unveil two new additions to the Koko Kollection — side note: Why isn't Kylie Cosmetics Kylie Kosmetics? — one of which includes the first-ever palette.
Behold the Koko Kit face palette in all of its glory.
It's almost within reach, ladies. The blush, bronzer, and metallic eyeshadows are coming within days, so you'll finally have something to complement your blue lips à la Miss Jenner.
Can I get an amen?
If that isn't enough to get you amped, you're in for a treat with the other Koko Kollection addition — a set of three miniature liquid lipsticks and one lip gloss.
Let's explore, shall we?
First we have Baby Girl...
A bright, sexy pink for all of you baby girls out there.
Then we have Bunny...
Apparently bunnies in Kylie's world are a shade of plum.
Next up is Doll...
Perhaps this is an ode to Kourt.
After all, the eldest Kardash is known for wearing a bold lip color, and Scott affectionately refers to her her "doll."
Well, at least he used to.
...and lastly, there's Sugar Plum.
Add a little sparkly zest to your lips with this number.
In my opinion, this is the shade that will go best with the contouring palette.
If these looks aren't bold enough for you, take some beauty inspo from beloved Elite Daily editors below.
Citations: kyliecosmetics (Instagram)