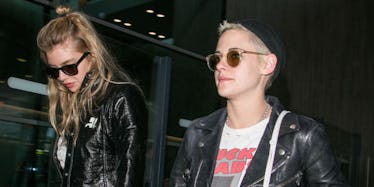 Kristen Stewart And Stella Maxwell Wearing Matching Leather Jackets Is Everything
Marc Piasecki/Getty Images
Kristen Stewart and Stella Maxwell are the celebrity couple I never knew I needed.
The pair was seen ~strutting their stuff~ (read: walking like the normal people they are, I'm just annoying) through the Charles de Gaulle airport in Paris while both sporting some sick leather jackets.
And like, I know these jackets aren't identical, but when they both got dressed this morning and discovered they both put on black leather jackets to cap off their looks, I bet (read: I hope and fantasize) they were like, "Awwwwww! Look at us matching. I love you so much. You are the light of my life."
That's how it happened, don't destroy my narrative — and, by extension, my dreams — by saying these matching outfits don't matter. They matter.
The perfect little beans held hands while walking through the airport and further solidified their seats on the Celebrity Couple Goals throne.
HIP.
TRENDY.
FUN.
LOVE.
The only leather jackets I have are fake leather from Target and will never look as good on me as these jackets look on these two.
What precious, precious smol beans. We must protect them at all costs.
We don't know for sure when the couple started dating, but the rumors of their relationship have been circulating since 2016.
The pair locked in their spot on the Celebrity Couple Goals throne (it exists, shut up) when Kristen COMMITTED to taking this picture of Stella, who was also COMMITTING to said picture being taken.
BUT WHERE IS THE FINISHED PRODUCT, KRELLA? (Has anyone thought of that celeb couple name yet? Probably. Whatever. I'm going with it. It's mine.)
After nailing what I assume is the perfect shot because you can't commit to a picture like that without nailing it, the two checked it out to make sure it was a keeper, naturally.
I don't even know if this is a picture of them checking out the other picture. I don't even know if this picture is from the same day.
But what I do know is that I will literally lose my mind if I never see what the car picture turned out to be.
SHOW ME THE INSTA, KRELLA!!!!!