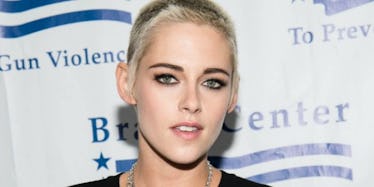 Kristen Stewart Compares Her Sexuality To Grilled Cheese And It Actually Makes Sense
Getty
Kristen Stewart has spent her career fighting stereotypes and not allowing anyone to put her in a box. She's always been a proponent of not hiding who she is. Kristen Stewart's sexuality is something she has taken control of and chooses not to define. She opened up to Harper's Bazaar U.K. about her most recent Chanel fragrance campaign, her sexuality, and grilled cheese.
When asked if she would date men again, Stewart responded,
Yeah, totally. Definitely ... Some people aren't like that. Some people know that they like grilled cheese and they'll eat it every day for the rest of their lives. I want to try everything. If I have a grilled cheese once I'm like, 'That was cool, what's next?'
Besides making me hungry for grilled cheese, that actually makes a lot of sense. People should choose what they like, in the kitchen and in their dating life.
This statement came as a bit of a shock to some people. In February 2017, Stewart called herself "so gay" on Saturday Night Live and is reportedly in an adorable relationship with Stella Maxwell.
In June 2017, Maxwell moved into Stewart's four-bedroom home in Los Feliz, Los Angeles, after dating for only five months. According to Us Weekly, Maxwell keeps an apartment in New York City, but "spends all of her time" at Stewart's.
Stewart's relationship with Maxwell has been the most publicized since dating Twilight co-star, Robert Pattinson. The two broke up in 2012 after three years of on-again off-again dating.
When Stewart was questioned about being in love, she clapped back with this,
I've been deeply in love with everyone I've dated. Did you think I was faking it? I've always really embraced a duality. And really, truly, believed in it and never felt confused or struggling. I just didn't like getting made fun of.
Welp, that cleared up any questions on that. I love Stewart's brutal honesty. She never tries to be anything that she is not and makes great food analogies. Keep doing your thing, Kristen.