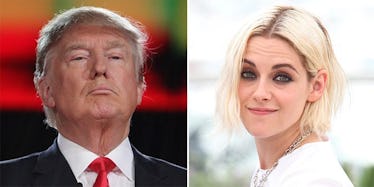 Kristen Stewart Responds To Trump's Awkward 'Twilight' Tweets About Her
REX/Shutterstock
Reporting live from the twilight zone (GET IT?! TWILIGHT?), actress Kristen Stewart has recently responded to now-President Donald Trump's previous creepy tweets about her highly publicized split from actor Robert Pattinson.
Pattinson and Stewart starred together in the widely popular vampire series "Twilight" and had an IRL romance that meant a great deal to fans, and as it turns out, Mr. Trump.
This too-good-to-be-true relationship came crashing down in 2012 when photos surfaced of Stewart canoodling with Rupert Sanders, director of Stewart's film "Snow White and the Huntsman."
Trump took to Twitter back when the news broke to express his support for Pattinson and offer his unsolicited advice. And boy, did he have a lot of feelings.
Like, a lot of feelings.
A lot, a lot of feelings.
Donald, get a hold of yourself!
This past week, while promoting her short film and directorial debut as part of Refinery29's Shatterbox Anthology, "Come Swim," Stewart was asked what she thought about these comments from the new president at a Variety talkback event.
She said,
He was mad at me a couple years ago, really obsessed with me a couple years ago, which is fucking crazy. I can't even understand it. I literally cannot even understand it. It's such far-out concept that I don't want to believe that actually is happening. It's insane.
In an interview with Variety, she explained that at the time, she chalked Trump up to a plain, old reality TV star and didn't give the tweets much thought.
"At that point, he was just, like, a reality star. I had no reference. It wasn't, like, really a thing," she said. "But in retrospect, somebody reminded me of that and I was like, 'Oh my gosh, you're right!' But, um, hey, buddy. What's up? He's probably, like, going to tweet about this."
The laughable truth is, she's probably right.
Trump has proven to be impulsive and irresponsible with his social media presence, leaving our country both troubled and fascinated.
Citations: Kristen Stewart Addresses Donald Trump's Creepy Old 'Twilight' Tweets (Huffington Post)