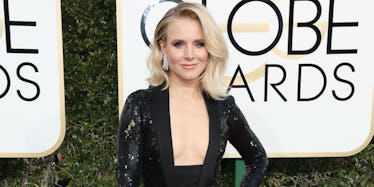 Kristen Bell Wore Butt Pads To The Golden Globes And They Deserve An Award
REX/Shutterstock
A bunch of celebs went home with the gold Sunday evening following the 74th annual Golden Globes.
The "Stranger Things" kids shut it down on the red carpet in their adorable coordinating ensembles, while Blake Lively and Ryan Reynolds defined the hottest #CoupleGoals (yet again) as they made their entrance to the lavish star-studded affair.
But, there was one MVP that didn't get the amount of credit and respect it truly deserved: Kristen Bell's butt pads.
Kristen Bell looked absolutely stunning in her black sequined Jenny Packham gown, while her hubby, Dax Shepard, made a dapper style statement in his black suit.
Kristen's Harry Winston jewelry and Jimmy Choo clutch completed her gorgeous fashion statement.
It's clear the duo totally slayed it on the red carpet, leaving the rest of us swooning over how adorable they are together.
Before arriving at the red carpet, Kristen Bell documented the stages of her getting ready for the big night on her Instagram story, and it was seriously epic.
Lo and behold: Kristen Bell's butt pads are the real stars of the Golden Globes.
If you don't have a lot of junk in the trunk, a set of butt pads can be an ultimate way to get that behind looking totally bootylicious in no time.
Kristen Bell seriously knows what's up in that fashion department.
If you're a novice in the butt pad world like me, you can get the same version of those jelly boob cutlets, but for your BUTT -- one for each cheek.
I also learned there are SO MANY BUTT PADS TO CHOOSE FROM. For example, there are plain-jane butt pads or adhesive butt pads.
You need to choose the right type and size or else all hell will break loose back there, and that would not be gucci.
One thing's for sure… Kristen Bell worked her butt pad like a champ last night. You go, girl!
Citations: Kristen Bell Wore A Butt Pad To The Golden Globes And OMG I Love Her (Buzzfeed)