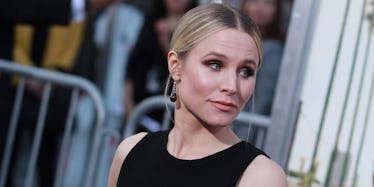 Kristen Bell's Hack To Apply Mascara Proves You've Been Doing It All Wrong
REX/Shutterstock
Kristen Bell is very beautiful. We will never be as beautiful, but when it comes to beauty hacks, the "Chips" actress said she's "always one to share."
She filled out a beauty questionnaire for E!, detailing the best way to achieve flawless lashes is to use a fan brush.
In the questionnaire, Kristen said the best beauty tip she ever learned was "the best way to apply mascara is to use a fan brush at the tip of your lashes."
Just dust the ends of those puppies with some tar and call it a day! Just kidding. Kristen had way more helpful tips because society's beauty standards are still out of control enough that 13-year-olds are contouring their child faces to look like they've already had two lucrative divorces.
The mother of two swears by her Clarisonic, insisting "its mild everyday exfoliation is exactly what I need," and depends on Neutrogena Moisture Smooth in Bright Berry to provide "the perfect flush without looking too made up."
Those of you still depending on age-old hacks to fix your early-morning bean bag eyes can take your spoons out of the freezer and put them back in the drawer where they damn well belong. All it takes to de-puff eyes, according to Kristen, is a little water and exercise.
She said,
Blood flow is the best remedy for puffiness.
Kristen's approach to beauty is pretty low-key, though she spent years trying to achieve the perfect smokey eye just like the rest of us gullible fools.
In fact, she considers "spending the early 2000s attempting too many smokey eyes without actually knowing how to do a smokey eye" her biggest beauty mistake.
Same. The amount of half-used smokey eye palettes hosting bugs and dugs under the beds of well-intentioned women everywhere could build a to-scale replica of Cinderella's Castle.
Live and learn, ladies. Live and learn.
Citations: Beauty Beat: Kristen Bell Has the Ultimate Hack for Applying Mascara (E!)