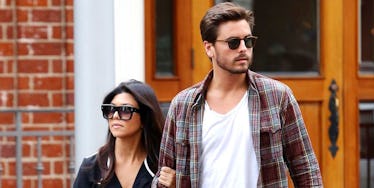 Kourtney K And Scott Disick Are Back Together Again, So Love Didn't Die In 2016
REX/Shutterstock
Kourtney Kardashian and Scott Disick are allegedly back together again for the trillionth time in their tumultuous, decade-plus relationship.
The news was confirmed to E! News, so you know it's real. Or as real as it will be until the "Keeping Up With The Kardashians" cameras start rolling again.
Two sources who are definitely not Kris Jenner and "Todd Kraines" told E! they have been back together for months now.
It was rumored the on-again-off-again couple and parents of three were living together, but the source says they're just spending a lot of time together.
Their breakups over the years are often related to Scott's hard partying and issues with alcohol.
The definitely-not-a-"KUWTK"-producer source told E!,
Scott's mellowed out a lot and hasn't been partying.
This is a line we have heard a lot when it comes to Scott. We are told he's being a good father to Mason, Penelope and Reign, and then we hear he got wasted in Las Vegas or ran off to some island with a woman who is not Kourtney.
Substance abuse is a serious issue and we do, of course, hope Scott is able to stay stable with the support of his friends and family, including Kourtney and the kids.
Kourtney and Scott are reportedly back together again in part for the sake of the three children they have together.
Another source, who is definitely not Kris with a fake accent, told E! the two "both want to make it work for them and their kids."
It is nice to hear the Kardashian crew has something to celebrate, especially as we head into the holiday season.
It has been a heavy time for the Kardashians this fall. Kim Kardashian was robbed at gunpoint and Kanye West only just got out of the hospital following extreme "mental exhaustion."
And after a year that saw a handful of long-term celebrity couples break up, it is nice to hear about this reunion. Twitter agrees.
See? Kourtney and Scott reuniting is the good news we all needed this holiday season.
Citations: E! Online