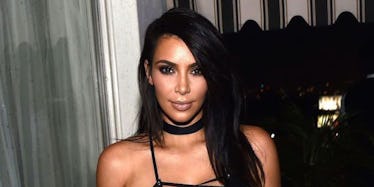 Kim Kardashian Depicted Herself As The Virgin Mary And Twitter Slammed Her For It
Kim Kardashian
We've seen butts, boobs, pregnant bellies and crying faces, but Kim Kardashian's latest Kimoji might be the most talked about yet.
On Thursday afternoon, the mother of two shared a few of her new emojis on Twitter to pump fans up for the release of her new merch.
The new collection includes an ass tray, fire weed socks and a Virgin Mary candle with Kim K's face on it.
Wait, what?
Yup, Kim really is selling a candle with her face as the Blessed Mother... and people are pissed.
Immediately after Kim posted the above gif on Twitter, fans slammed the star for being "disrespectful" of the Virgin Mary.
People accused Kim of offending the Catholic religion and something that is "very sacred to many people."
Others called Kim Kardashian "ridiculous" for thinking this was an OK item to sell.
There were, however, fans who defended Kim and believed anyone offended by the candle was just being "sensitive."
Some people even added pictures of religious candles featuring other celebs, like Lindsay Lohan, for example.
The dream team!
Kim Kardashian isn't the only celeb to get dragged on social media for offending people's religion. Just the other day, fans were pissed at Katy Perry for making a meme out of a Hindu goddess.
The "Chained To The Rythm" singer posted the picture above and added the caption, "current mood."
People flooded the Instagram with comments accusing the star of "dragging the religion" when she could have expressed her feelings in another way.
Others suggested Katy Perry should have done some research first before turning a sacred image into a meme.
Welp, it looks like Kim Kardashian and Katy Perry are both in hot water this week. Maybe we should all just delete Instagram and pretend this never happened?!
IDK, I'm a Twitter girl.
Citations: Kim Kardashian Slammed For Virgin Mary Kimoji (Perez Hilton)