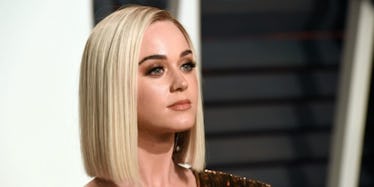 People Are Pissed At Katy Perry Over This Photo She Posted On Instagram
REX/Shutterstock
If you've seen Katy Perry's name trending this morning, it's unfortunately not because she dropped a new song or music video.
The "Chained to the Rhythm" singer is making headlines for a controversial photo she posted on Instagram Wednesday evening.
Katy Perry added an image of an Hindu goddess with the caption, "current mood." According to the Instagram comments, it looks like many people are upset over her "insensitive" post.
Many of the users accused Katy Perry of disrespecting the goddess Kali (who is considered a divine protector by Hindus) and "offending the Indian people."
People posted comments telling the 32-year-old she had no right to "drag the religion" and use the goddess as a way to express her emotions.
People also said Katy Perry should "know the meaning of that picture first" before using it as a meme. Other users were confused why she didn't delete the post after receiving backlash.
There were, however, some people who defended the singer. Some users argued Katy Perry was just using the picture to express her mood -- she wasn't intentionally trying to insult the religion.
But overall, it was clear everyone was divided and at war over the controversial photo.
Katy Perry has not responded to the comments on her picture. Later that day, she posted a series of photos on Instagram from her Easter party.
She captioned the images,
Almost fully present thanks to the brilliant @katyperrycollections Easter recovery party on Sunday. We juiced up and reflexology-ed our way into some v QT bunny flats and more! @ronyalwin
It looks like Katy might need to be a little more careful with her Instagram photos if she wants to avoid criticism in the future. But, to be frank, it looks like this girl just doesn't give a fuck.
Citations: Katy Perry Hindu Goddess Instagram (Mashable)