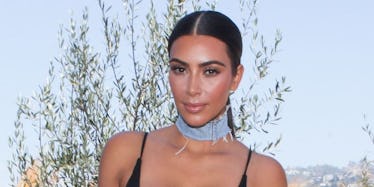 Kim K Stirs Up More Drama With Taylor Swift In Latest Snapchat Video
SHUTTERSTOCK
Oh man, it looks like Kim Kardashian isn't letting go of her drama with Taylor Swift. 
The 35-year-old reality star threw low-key shade at the 1989 singer on Snapchat the other day, but now we're calling her out.
While visiting a store in Los Angeles, Kim came across a sign reading "I made that bitch famous."
OH, HOW'D THAT GET THERE? What a coincidence.
Those five words make up arguably the most controversial song lyric in the past decade.
Ever since Kim exposed Taylor's phone call with Kanye West about "Famous," the Kardashians have been doing what they can to destroy Taylor in the media.
It's been really, um, interesting to watch. Kylie Jenner even threw shade at Tay in her own Snapchat. THERE'S A WAR, PEOPLE. AND WE'RE ALL A PART OF IT.
The feud has died down a bit over the past few weeks, but yesterday Kim decided to remind fans she's not gonna let it go.
In the Snapchat video, you can see Kim pretend to stare at her phone and act as if she wasn't aware of the framed song lyric.
LOL. OK, KIMMY. WE SEE YOU. WE HAVE EYES, WE CAN READ.
Keep in mind, she had someone else take the video. That makes the whole thing even sketchier.
In the end, it's clear Kim K isn't done with Taylor Swift. I guess we'll have to see WTF goes down at the Video Music Awards.
Citations: Kim Kardashian Taylor Swift Snapchat (Cosmopolitan)