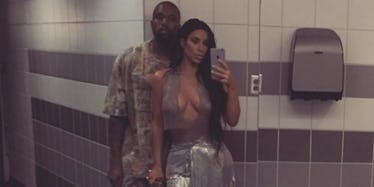 Kim Kardashian Is Reportedly Joining These 7 Celebrities Who Used Surrogates
Instagram
Kim Kardashian West has reportedly chosen to hire a surrogate to carry her and husband Kanye West's third child, People reports.
Kim K, already the mother of North, 4, and Saint, 18 months, experienced high-risk, painful pregnancies with both of her children and was advised by doctors that a third pregnancy could be life-threatening due to a condition she has called placenta accreta.
And she isn't alone – 6.9 million American women aged 15-44 have used infertility services, including many Hollywood mamas, and still more men and women choose surrogacy as the best option to grow their families.
So, in honor of the fifth addition to the Kardashian West clan, lets take a moment to celebrate all the celeb parents out there who found their baby joy with the help of a surrogate.
1. Tyra Banks
Supermodel Tyra Banks and boyfriend, photographer Erik Asla, welcomed their first child, son York Banks Asla, in January 2017.
Banks, who was public about her own struggles with infertility, said in a statement to People, "the journey to now has not been an easy process, as I've shared before. But there was a beautiful bright light at the end of the tunnel for me and his father, Erik."
Congrats, Tyra!
2. Neil Patrick Harris and David Burtka
Neil Patrick Harris and husband David Burtka are the parents to adorable 6-year-old twins, Harper and Gideon, who were born after a bit of a miracle of modern science.
The couple chose an anonymous egg donor and each offered sperm to try for insemination. Luckily, both of them took, two eggs were implanted into a surrogate, and the twins were born. So technically, these tykes can say they're fraternal twins and biological half-siblings. Talk about a modern family. And these two are such great dads – both of their Instagrams are a must follow.
3. Elizabeth Banks
Elizabeth Banks and husband Max Handelman's two sons, Felix and Magnus, were both born via surrogate after Banks struggled with infertility.
She discussed her fears about using a surrogate and what ultimately helped her overcome them in a 2012 interview with Women's Health, saying, "It helped that other moms had said that once they had their babies, they forgot they were ever pregnant. So once my focus became the baby and not the pregnancy, it was a very easy decision."
4. Jimmy Fallon
The Tonight Show host and wife, Nancy Juvonen, have two daughters: Winnie, 3, and Frances, 2, both born via surrogate.
The arrival of the couple's second daughter came as a surprise to everyone when Fallon didn't show up for work one day and The Tonight Show tweeted, "Due to unexpected but delightful circumstances, there will not be new episodes tonight or Thursday evening."
Of all the reasons to cancel a talk show, a surprise baby girl has got to be the best. Congrats!
5. Ricky Martin
Ricky Martin became the proud papa of twin when his sons, Valentino and Matteo, were born via surrogate in 2008. He took some time off to take care of his boys, but is back on stage for his Las Vegas residency, which began earlier this year. Back to "La Vida Loca" for Ricky!
6. Lucy Liu
Women who struggle with infertility aren't the only ones who choose surrogacy.
Actress Lucy Liu always felt destined to be a mother, but with her hectic schedule on Elementary, she didn't know if she'd ever have the right opportunity to stop working and carry a baby herself. Instead, she opted for surrogacy, and her son, Rockwell, was born in 2015. She says, "It turned out to be great." And if baby cuteness is any indication of that – she was right!
7. Giuliana and Bill Rancic
Giuliana Rancic struggled to get pregnant for years, but ultimately became a mother when her son, Duke, was born via surrogate in 2012.
Her and her husband's reality show, Giuliana and Bill, chronicled the couple's fertility struggles, miscarriages, and experiences with surrogacy as well as Rancic's breast cancer diagnosis. Rancic said she was happy to be so open if it could help other women. The couple is still reportedly trying for a second child, saying "we're fighters," after their surrogate experienced several miscarriages after having their son Duke.
Assisted Reproductive Technology, the fancy umbrella term for all the ways we know how to get pregnant without any help from the birds or the bees, has forever changed what it means to be a family.
Age, health, and sexuality no longer limit long-excluded populations from having their own kids. It's inspiring.
So here's to the Kardashian Wests, their surrogate, and all the modern families around the world -- and congrats.