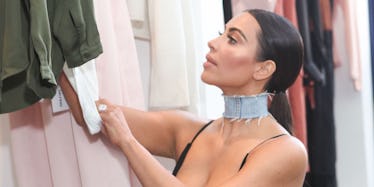 Kim Kardashian Has All The Solutions To Your Short-Girl Problems
REX/Shutterstock
Kim Kardashian's the most successful short person on the planet.
So when she offers tips on how to pull off a micro-stature look that can kill, you take the advice and run!
She's only 5'3", but has dropped a few of her trademark secrets on how to trick people into thinking you have endless legs.
Under a blog post titled "Short-Girl Problems: My Top 3 Tips For Lengthening Your Look," she wrote,
I've learned that there are a few really good styling tricks for short girls like me. They're simple and make all the difference. Not everyone is Kendall, LOL! For those of you who also struggle with #ShortGirlProblems when it comes to getting dressed, scroll down to see my go-to styling tips!
You ready for an education in height? OK, her first tip is...
Wear nude or clear heels.
That's right. The reality TV star swears by them. I'm no heel expert, but I guess a nude footpiece is basically an invisible stilt. She wrote,
Wearing nude, skin-tone or clear shoes elongates your legs!
Wear cropped leggings.
Wow, that actually makes a huge difference -- what a wardrobe magician. She's like the Houdini of the legging world. She explained,
Another trick for looking taller is cropped leggings. They make your legs look way longer!
HEELS, HEELS, HEELS!
I know, it's a bit of a cop out. It's basically the same tip as tip number one, but it's Kim Kardashian, so we'll allow it.
Kimmy says heels are the ultimately way to make a short girl taller, which is stating the obvious and then some.
She wrote,
It's not a secret that I wear heels 99 percent of the time. If I do wear flats, it's a momentous occasion, lol. I live in heels because they're the best way to look taller.
Come to think of it, I don't recall ever seeing Kim in flats...
Citations: Kim Kardashian Gives Advice On How You Could Lengthen Your Look! (Perez Hilton)