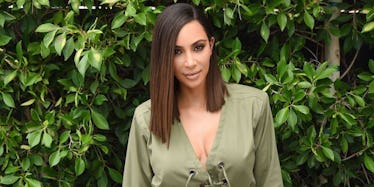 Kim Kardashian Posts Sexy Instagram Video, Proves She Can't Make A Salad
REX/Shutterstock
TIL Kim Kardashian West has never made a salad.
Kimmy appeared in a video on friend Carine Roitfeld's Instagram, celebrating the former editor-in-chief of Vogue Paris' one millionth follower.
Kim Kardashian told Carine's followers,
So I was looking on Instagram today and I noticed that Carine is almost at a million followers, so I want to celebrate. I wanted to make her a cake, but I don't have any of the ingredients. But I do have the ingredients to make a salad, so I'm gonna make her a celebratory salad.
Kim then went right ahead and followed what she believed were the steps to maybe making a salad.
She snapped a cucumber in half with her hands before tossing both chunks straight into the bowl and, if you don't like it, you can choke on it.
TBH, you can choke on it either way.
She poured a whole bottle of dressing right on top of that crispy bitch.
Drown it, KKW.
By the end, she lovingly crafted this abomination.
OK. That's — it's done, I guess.
Naturally, there were a few frames that did not make it into Kim Kardashian's final cut:
-Kim shakes a box of croutons on her hair, crushes them under her Louboutins and throws a dry loaf of Italian bread into the salad bowl.
-Kim grabs a handful of hard boiled eggs and strips off the shells into the bowl. She throws the egg whites and yolks in the trash.
-Kim drizzles seven Kylie Lip Kits over the top of the salad. She eats the plastic containers seductively.
-Kim can't find grilled chicken. She drives to the Calabasas city morgue and trades a pair of Yeezys for a cadaver's hand. She heads home, rips off its fingernails and throws them in the bowl. She throws its palm and fingers in the trash.
-Kim puts the salad in the microwave for twelve full minutes.
Classic salad.