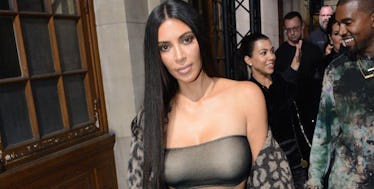 Kim Kardashian Reacts To The Arrests Made In Her Paris Robbery Case
REX/Shutterstock
Kim Kardashian is breathing a little easier nowadays.
It's been an incredibly difficult four months for Kim K since she was robbed at gunpoint in Paris.
The 36-year-old social media guru has spent the majority of the time emotionally dealing with stress related to her assault, as well trying to hold her family together in the wake of Kanye's mental breakdown.
Things got a little better for Kim this week though as Paris police announced they made 17 arrests related to her robbery, including her old chauffeur, which gives the whole case an "inside job" kind of vibe.
Kim's rep confirmed she is aware of the arrests. She says the pop culture icon "very happy" and "very reassured" at the news.
Last night Kim broke her IRL verbal silence regarding the robbery.
After a short dinner with Kanye at a California sushi restaurant a member of the paparazzi asked Kim if she felt relieved at the arrests, she responded,
Yes.
This isn't the first time Kim has gone on camera and talked about the robbery. In a promo for an upcoming episode of "Keeping Up With The Kardashians," Kim opened up about her experience, tearfully recalling her thoughts during the incident, saying,
They're going to shoot me in the back.
Going on to say,
There's no way out. It makes me so upset to think about it.
You can watch the promo trailer for the new season of "Keeping Up With The Kardashians" here.
During her stay at Paris Fashion Week in October, the 36- year-old social media mogul was bound, gagged and locked in her hotel bathroom while armed robbers stole anywhere between $6 million and $11 million in jewelry from her, including her engagement ring.
A 72-year-old man under the name as Pierre B. has been identified as the ringleader behind the crime. French newspaper Le Monde reports the average age of the criminals arrested in relation to the heist is 55-years-old.
Information is still coming out about those arrested but we do know that DNA evidence was used in the case and CCTV footage from around the hotel played a crucial role in finding those allegedly responsible.
Citations: Kim Kardashian Relieved After Arrests Made in Connection to Paris Robbery (E!)