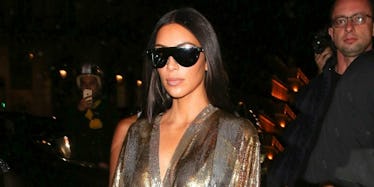 Kim K May Be Building A $100K Panic Room In Her Mansion After Robbery
REX/SHUTTERSTOCK
In early October, Kim Kardashian was robbed at gunpoint by five masked men while she sat helplessly inside her room at a private apartment complex in Paris, France.
Roughly $11 million worth of jewelry was reportedly stolen from the 35-year-old mom while she was gagged and tied up in the bathroom, pleading for her life.
Kim Kardashian has been out of the spotlight and off social media since the harrowing incident took place, but according to reports, Kim K is making news by building a $100,000 panic room inside of her $20 million Los Angeles home.
According to DailyMail.com, Kim and Kanye West's gated mansion is located inside of a gated community, but following her terrible experience in Paris, it appears Kim K will stop at nothing to feel as safe and secure as possible.
A source reportedly told In Touch Weekly, Kanye West is employing the kind of security which protects government officials and is calling Kim Kardashian's therapists at all hours to help her try and get past the ordeal.
According to DailyMail.com, the panic room will be equipped with a separate bathroom and plenty of cameras.
Speaking of the room, a source reportedly said,
It will be made to withstand a fire of over 1,000 degrees and a 7.0 earthquake.
WOAH!
Regarding Kim Kardashian's current mental and physical state, a source reportedly said,
She's not well. It's worse than anyone knows. She's been suffering severe panic attacks and refuses to be alone. She's been having flashbacks and nightmares. She's a nervous wreck. She gets especially anxious late at night.
I mean, can you blame her? Imagine being robbed at gunpoint, thinking your life was going to end in that moment.
Kris Jenner recently spoke to E! News about her daughter's attempt to move forward, reportedly saying,
One day at a time. It's a process.
When she first appeared in LA following the robbery, Kim barely looked recognizable.
Now, with the reported creation of this $100,000 panic room, it appears Kardashian is not looking to be seen at all.
Get well soon, Kim.
Citations: A place to feel safe: Kim Kardashian 'building $100,000 panic room inside $20m gated LA home' as she suffers 'nightmares, anxiety' post Paris ordeal (Daily Mail)