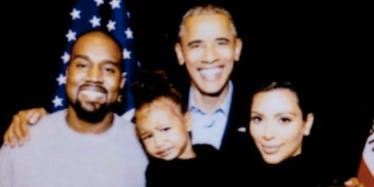 Kim K's Hilarious Pic Proves North West Is The Only Child Afraid Of Obama
KimKardashianWest.com
On Friday, January 20, Donald Trump became the 45th president of the United States.
However, instead of focusing on this country's new president, Kim Kardashian decided to use her website to show her gratitude to the 44th President of the United States, Barack Obama.
If you go to KimKardashianWest.com, you'll be greeted with a message of thanks and support directed at Obama. That message reads:
THANK YOU FOR LEADING OUR COUNTRY YOU WILL BE MISSED
Indeed, I think many Americans feel the exact same way Kim does.
And I doubt she's the only person who would rather champion what Obama has done than sit and wonder about what Trump will do in the next four years.
Below her words of appreciation, Kim posted a collection of photographs of her family meeting the former president.
The photos are pretty damn awesome, and I'd be lying if I said I wasn't getting emotional just thinking about Obama leaving office.
Check out this shot of Kim K and Obama enthralled in deep conversation.
In this photo, Kim and Kanye's daughter, North West, seems to take a real liking to the 44th president of the United States.
However, in another photo Kim posted, North looks like the only child on earth who's afraid of Obama.
What's wrong, North?
I mean, if she was this freaked out meeting Obama, can you just imagine what North will do if she ever meets Trump?
Seriously, though, I would consider Obama quite possibly the least scary person on earth. I'm just going to assume something else was going on with North when this photo was taken.
What other explanation could one possibly have to explain that look of utter revolt and horror?
Kids, right? They don't know how good they have it until, well, Trump becomes president of the United States.
Citations: THANK YOU FOR LEADING OUR COUNTRY YOU WILL BE MISSED (KimKardashianWest.com)