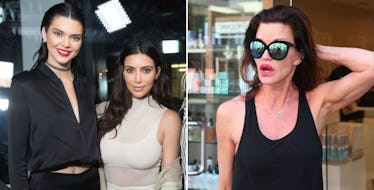 Kim K And Kendall Jenner Bashed By Former 'ANTM' Judge: 'They're Not Models'
REX/Shutterstock
It's hard to remember what life was like before Kim Kardashian, Kendall Jenner and the rest of their sisters graced the covers of every magazine.
I'd say it's pretty much impossible to enter a store-- or to browse the TV and web -- without coming across ONE of their beautiful faces.
Whether people want to admit it or not, the world is obsessed with the Kardashians. Perhaps you don't LOVE the women, but you're definitely intrigued by their work.
You follow them on social media, read their magazines and give them the clicks they need to continue taking over.
You're fueling the fire and because of this, the Kardashians are dominating the world.
Of course, there are people who aren't about the Kardashian life. There are people who can't stand the family and are pissed about how popular they've become.
Take Janice Dickinson, for example. The model -- who claims to be the "world's first supermodel"-- recently slammed Kim Kardashian and Kendall Jenner in an interview.
On Monday, the 61-year-old sat down with AfterBuzzTV's "The Tomorrow Show With Keven Undergaro" to talk about why the famous sisters are always on magazine covers.
Janice Dickinson put it sweet and simple. She told the host,
They're not models.
When discussing Kendall Jenner specifically, Dickinson commented,
I think she's lovely. Don't get me wrong, but I don't think she's a supermodel, I don't.
Dickinson attributes the modeling success of people like Kendall Jenner and Gigi Hadid to their social media following.
While looking at a photo of Kendall, she explained,
Give me a break. You think that's supermodel? That is not supermodel … She can't beat me. She can't. Apples and oranges.
The former "America's Next Top Model" panel judge also threw shade at Kim Kardashian.
Dickinson says she felt "shocked and disappointed" when Kim and Kanye West were featured on the cover of Vogue after their wedding in 2014.
She shared,
Kim Kardashian made the cover of Vogue, which made me want to vomit. It was crazy.
She continued,
They're not models! They're reality TV stars! You know, modeling is extremely hard work, you have to have perfect proportions. The Kardashians do not have couture proportion.
Yikes. Hate to break it to you, Janice, but many people love the Kardashians because of their proportions.
The people want to see Kim and Kendall, so that's what they'll get.
Citations: Janice Dickinson Slams Kim Kardashian And Kendall Jenner (Us Magazine)