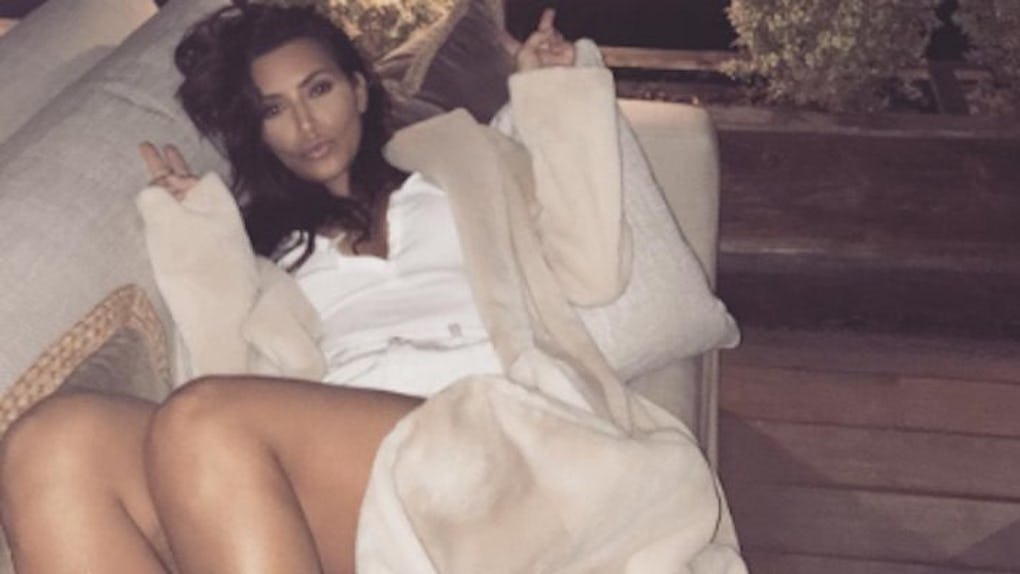 Instagram/ Kim Kardashian
Kim Kardashian And Kanye West Are Staying In This $25M NYC Apartment For Free
Kim Kardashian and Kanye West weren't about to attend the Festival of Boredom Tears that was Sunday night's VMAs without at least staying in an ultra lux New York penthouse.
Airbnb hooked K&K up with a $25 million penthouse in Chelsea — complete with five bedrooms, six bathrooms, a rooftop pool and outdoor terraces — because they're a terraces-or-GTFO kind of couple.
On Snapchat Monday, Kim posted a clip of herself in bed, pretending to have just woken up despite having a full face of professionally applied makeup.
She expresses her gratitude for the "complimentary stay" and claims she's "obsessed" with the location.
Kimmy shared the view with followers, who will likely never know the joy of an Airbnb hookup of this magnitude.
The couple is expected to stay in the penthouse for a few months. Usually, at $10k an evening, this would be a foolish investment even for Kimye, but have you heard it's complimentary? Because it's complimentary.
Complimentary.
Earlier in August, an Airbnb rep told Page Six,
The plan would be for Kimye to live there for a few months for free, and Kim will post on social media about the apartment, like her sisters did from Turks and ­Caicos. Airbnb would pick up the tab for the rent.
Having to attend a drama-free VMAs seems a reasonable price to pay for a few months in this dream apartment.
Citations: KIM & KANYE BIG APPLE BALLIN' IN $25 MIL PENTHOUSE (TMZ)