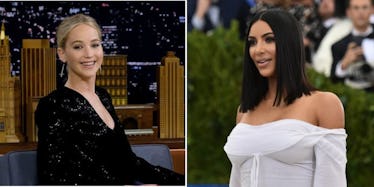 Kim K Had The Best Reaction After J. Law Admitted She Loves Watching The Kardashians
Jamie McCarthy / Mike Coppola / Getty Images
There has never been any shame in J. Law's game, especially when it comes to her super normal, totally relatable, sometimes "embarrassing" behavior we all understand too well. Exhibit A: Her undying love and obsession for the Kardashian family. She recently revealed in an interview that the royal family, as I like to call them, is partially responsible for keeping her sane on the set of her upcoming psychological thriller, Mother!. Kim Kardashian's reaction to Jennifer Lawrence's interview is just as doting, reminding us it is possible for two mega-celebrities to fangirl over one another.
Lawrence has been candid about how dark Mother! is, and even admitted to not wanting to be a part of it initially. It was ultimately the genius and respect she has for director and now long-term boyfriend, Darren Aronofsky, that brought her around.
She told ET in a separate interview,
It was dark. I mean, if anybody sees the movie, they'll understand. I had to go to a place nobody should go. …If I had to stay in, like, a torturing feeling or state of mind, I wouldn't want to be an actor. I would just go do something else.
So, what exactly did she do to ease the tension? Create a tent that played episodes of Keeping Up With The Kardashians 24/7, of course.
Lawrence has always copped to being a fan of crack reality TV, regularly appearing on Andy Cohen's Watch What Happens Live clubhouse to discuss her adoration for the Real House Wives series. Still, she's a Kardashian girl at heart. Aren't we all?
She told ET's Cameron Mathison,
The Kardashians are more comforting to me, I think. I've been watching them for 11 years, so I grew up with them, and I know all of them personally. The Housewives, they go in and out. They're fighting all the time. There's something more comforting about the Kardashians.
She also added, "Most reality TV stars are mentally compromise, no?" Yes, in fact, Jennifer. Yes.
Kim Kardashian must have caught wind that she and her sisters were on J. Law's mind, and tuned in to see the interview. She then snapped a recording of Lawrence's interview and included a massive heart emoji, with the caption, "OMG is this real?!"
Girl, if you can even believe it.
Lawrence also admitted to Jimmy Fallon on The Tonight Show,
I got to such a low point in the film emotionally,  I was going to suck a dark place, that eventually I had to bring the Kardashian's in... ... I had to do this one scene, and I had never gone that dark before... I had never done something that horrifying, so I started getting scared like a couple days before, and I was like "I need a tent" just to be away from all the extras... ... It was just a computer that was playing the Kardashians and it had headshots, and it also had little notes from them to me that I had written.
Stahp. I love it.
Aronofsky is also briefly featured in Kim's snap series commenting on his girlfriend's extracurricular activity, saying, "I just ignored it. That's her own thing."
Fair enough, Darren!
He also told Entertainment Tonight previously that one of the best parts about Lawrence is her ability to turn on and off on set as needed. He said,
I mean, she's very, very relaxed. She's the type of actor that turns off all the intensity when she's not shooting, and then flips it on when she needs it. And so, in between action and cut, she's the character, and then when you call cut, she's Jennifer Lawrence again.
And by that he means, she's probably watching Khloé do squats in her Kardashian tent. (I don't know, do you guys feel like Khloé's always doing lots of squats?)
Still, whatever Jennifer is doing as an actress, it's working. Whether it's taking the Kardashian's as medicine or just being herself, Aronofsky added,
I don't know what makes her great — maybe it was her parents, maybe it was the Kentucky water. I have no idea, but she's, like, a once-in-a-generation talent, and just a whirlwind and a hurricane and an earthquake and a thunderstorm of talent.
Kim Kardashian and all of us agree.
Check out the entire Gen Why series and other videos on Facebook and the Bustle app across Apple TV, Roku, and Amazon Fire TV.