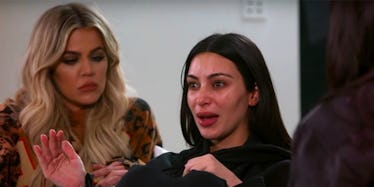 Kim K Opens Up About Trying To Have A Third Child: 'I've Gone Through So Much'
E!
After all she's been through the last six months or so, it's miraculous Kim Kardashian wants to have another child.
In early October, the 36-year-old was held at gunpoint and robbed by masked men in her Paris hotel room.
Now, the mother of two has revealed she wants nothing more than to have a third child.
In a teaser clip for this coming Sunday's episode of "Keeping Up with the Kardashians," Kim told her family,
I'm going to try to have one more baby.
Naturally, her family was shocked.
Kim Kardashian is already a mom to North, 3, and Saint, 1, and having a third child would apparently pose a pretty serious potential health risk.
Speaking about that risk, Kim K said,
I want my kids to have siblings, but the doctors don't feel like it's safe for me.
According to E! News, the 36-year-old Kardashian would require surgery on her uterus in order to have a third child, and it appears that's something she's extremely willing to do.
Speaking with her family, Kim K said,
I have to go in and prepare my uterus because I decided I want to try and have one more baby. I have to have a surgery on my uterus to kind of prepare this hole, so they need to, like, clean that out and then there's scar tissue. It'll still be a really high-risk pregnancy, just that you'd be able to get pregnant.
Speaking about why having a third child is so important to her, Kim Kardashian said,
Having more kids is definitely going to be a struggle. I've gone through so much with really bad deliveries that the doctors don't feel like it's safe again for me to conceive myself.
The 36-year-old continued,
This surgery is really the one last thing I can try. I want my kids to have siblings, and I want to know that I did everything I could to make this happen.
No, you're crying!
We can often get caught up in the media circus surrounding celebrities and reality stars, but it's important to remember they're real people, too.
Best of luck, Kim.
Citations: Kim Kardashian Talks Possible Surgery to Have More Children: 'I Want to Know I Did Everything I Could' (Entertainment Tonight)