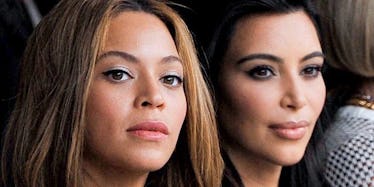 Kim Kardashian And Beyoncé Aren't Actually Friends, And Our Dreams Are Crushed
REX/Shutterstock
Hoes over bros, Jay Z?
Everyone's favorite rapping best friend duo has always been Jay Z and Kanye West.
Remember when Beyoncé revealed she was pregnant at the 2011 MTV Video Music Awards? NOBODY was happier to witness this announcement than Kanye was.
These two make me so happy. And Watch The Throne is still one of my favorite albums to date.
However, there seems to be some trouble in paradise for these two besties.
A few days ago, Kanye ranted about how their "kids ain't never even played together."
And we were all pretty broken up about it.
Page Six sources said Jay Z "can't stand that nut job," but recent findings say there may actually be a whole different story to their friendship (or lack thereof).
People have always speculated Beyoncé doesn't like Kim, especially when the hip-hop power couple didn't show up to the Kardashian-West wedding, and now we have more evidence supporting that theory.
Another Page Six article has come out with more information. A source says,
Beyoncé has never genuinely liked Kim. She's mostly tolerated her because of their husbands' friendship and [their] mutual friends, like Jennifer Lopez. She is always a little icy to Kim. The last time they hung out, the minute Beyoncé could leave the conversation, she did. They always have lots of awkward pauses
Ouch. Bey don't play no games.
(Beyoncé every time Kim speaks, probably.)
But don't lose hope! A Beyoncé rep did respond to the source's claims and said they were "ridiculous, to say the least."
Hm, I don't know, man. Things just don't seem to be adding up here.
Either way, if Beyoncé really doesn't like Kim, she's amazing at keeping her personal life low-key (with the exception of Lemonade, of course), and we all love her so much for that.
Citations: Oh Sh*t: Beyoncé Has Reportedly "Never Genuinely Liked" Kim Kardashian (Cosmopolitan), Beyoncé has 'never genuinely liked' Kim Kardashian (Page Six)