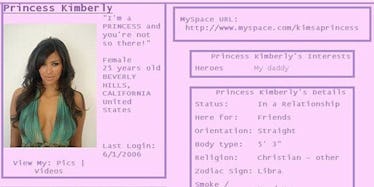 Kim K Went By 'Princess Kimberly' On Myspace And Only Had 856 Friends
MySpace
Today, Kim Kardashian is Hollywood royalty. But a decade ago, Mrs. West was known as someone else entirely: "Princess Kimberly."
Us Weekly dug up the reality star's 2006 Myspace page, and it's arguably the best thing you'll see all day. Let's just say Kim would (or, at least, should) be embarrassed to know this is still floating around on the Web.
At the time, Kim only had 856 friends, and in Myspace days, that was less than your average middle schooler.
Her bio embarrassingly read,
I'm a princess and you're not, so there!
Under "Who I'd Like To Meet," Kimmy simply put "God."
There's more.
The famous Kardashian's very pink profile was the work of one "pimp-my-profile.com," and her Top 8 included Ray J (cringe) and someone named G-Money.
Needless to say, it's incredibly amusing.
At the time, Kim was a professional organizer and "stylist" for famous friends, including Paris Hilton and Lindsay Lohan.
In an interview with AdWeek earlier this year, Kim explained,
Social media works when you're open, when you're honest, and people want to feel like they're getting a little glimpse into your life. It's not that I brand myself like I'm a celebrity. I'm just living my life and sharing a part of my life with the world.
Her new social media tactic seems to be working: Between Instagram and Twitter, the ex-"princess" now has a combined 68.3 million followers.
Fortunately, we can still all revel in the joy of remembering the mogul as she once was: a weird, self-absorbed rich girl with bad taste.
Thank you for the memories, Kim.
Citations: Kim Kardashian Was Once Known As Princess Kimberly On Her Myspace (Us Weekly), Kim Kardashians Myspace Page From 2006 Amusingly Revisited (Daily Mail)