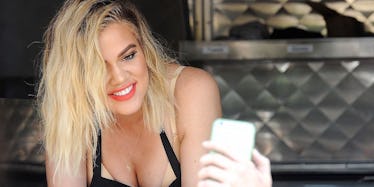 Khloé Kardashian's Tip For Healthy Living Has Nothing To Do With Weight Loss
REX/Shutterstock
If you need any more proof Khloé Kardashian is the superior Kardashian sister, look no further.
The 32-year-old reality star is constantly scrutinized for her body, as are all the Kardashians, but guess what?
She really couldn't care less about her body weight or your opinion on it.
Khloé recently became the new face of Protein World, a fitness supplement.
In a new interview with PEOPLE magazine, the reality star said while she feels better than ever before about her body, she's never had an issue with gaining weight.
She said,
I don't care how much I weigh. I don't really care what size I am in clothes. I care about how I look and feel, and am I able to run up that hill, or can I get up the stairs without huffing and puffing. I have girlfriends who are skinnier than I am, but I can sprint up a flight of stairs but they're out of breath. So for me, that's more of a rewarding feeling than seeing anything on the scale.
In fact, Khloé said she doesn't even check the scale anymore.
Considering Kim Kardashian's obsessive weight Snapchats, this refreshing, body positive attitude from a Kardashian is a near miracle.
Khloé said,
I don't want to get discouraged if the scale says a certain number. If I look really good, why do I care what the scale thinks?
She did admit her confidence hasn't always been so easy to come by, especially in the Kardashian household.
I mean, how could she not compare herself to her sisters when weight was a constant topic of discussion?
Khloé said,
They'd always be like, 'Oh, I weigh 102 lbs.,' and whatever, and that's good for them, but I would look at the scale and be like 'Oh god' because I weigh 140 or something. As a teenager, you're not understanding and knowing that difference. There's so many different elements to why I weigh more. And I do think that really hinders children and those numbers are not good to focus on.
TELL IT, KHLOÉ!
So how does Khloé track her progress, if not by weight?
She explained she focuses on small goals involving certain parts of her body she wants to see changes in.
She said,
I definitely still have dimples, or cellulite, some skin might not be as toned as I want, so I just focus on those small areas and not beat myself up about it.
That sounds like a much healthier attitude than letting a scale rule your life to me!
Recently, Khloé faced some criticism for her upcoming show on E!, "Revenge Body with Khloé Kardashian," which some health experts feel is not so body positive.
So we'll see how this body positive outlook she preaches will reflect in her show, which airs on E! tonight, January 12, at 8 pm ET.
Citations: Khloé Kardashian Didn't Feel Bad About Her Body When She Was Heavier: 'I've Always Been Confident' (PEOPLE)