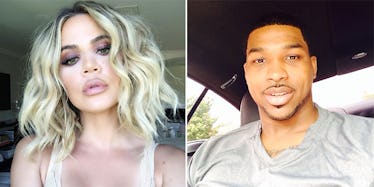 Khloé Kardashian's NBA Boyfriend Is 'Happy' His Ex Is Pregnant With His Baby
Remember Tuesday?  A simpler time when no one was totally sure whether Jordan Craig's baby belonged to her ex/current Khloé Kardashian man treat, Tristan Thompson?
Well, Tuesday is over, and the harsh daylight of Wednesday has revealed one clear truth: Model Jordy C is indeed expecting a baby with Cleveland Cavalier Tristan Thompson.
Don't worry. He's psyched about it.
Over the weekend, Jordan celebrated her baby shower with the ladies in her life.
The women enjoyed brunch al fresco and hashtagged a bunch of Instagram photos with "Prince Oliver" in honor of Jordan's baby to be. It's still pretty unclear whether, when this baby is born in a month, his full name will be Prince Oliver or if he'll just be a dude named plain ol' Oliver with a slight to moderate superiority complex.
Photos of Jordy looking gorgeous with her eight-month bump spurred buzz over whether her ex Tristan is the baby's father.
A source revealed to Us Weekly the 25-year-old athlete is "happy" to welcome his son, and he's "told Khloé about the baby."
As for her involvement in Jordan and Tristan's big news, Koko is laying low.
The source added,
Khloé's having fun with him right now and just doesn't want any drama.
Of course Khloé doesn't want any drama. I mean, she wants drama, but like, Stirring Shit With A Snapchat Makeout Vid drama, not Boyfriend Co-parenting With An Ex drama.
Koko brought a 6-foot, 10-inch man with hands the size of hubcaps (too much?) back from the brink of death but a year ago. The 32-year-old no longer has the time or the energy to get petty over the lives of others.
Just -- don't even ask her about it.
Like, honestly, move on. You're making it weird.
You don't want to see her snap, K?
Theeeeeeeeeeeenks.
Citations: Khloe Kardashian's Boyfriend Tristan Thompson Expecting a Baby With His Ex-Girlfriend (Us Weekly)