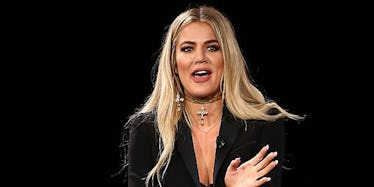 Khloé Kardashian Hints A Friend Is Stealing From Her In Cryptic New Tweets
Joe Scarnici/Getty Images
Someone done did Khloé Kardashian dirty.
Sorry, I don't know why I said that, but that's what it feels like... certainly something a little different than just "upsetting" her.
The Kardashian sister and middle child out of the whole Jenner/Kardashian gang just posted a series of tweets creating some serious speculation about her social circle.
Apparently, someone stole from the Revenge Body mogul, and she is looking to her fans for feedback on how to handle it.
On June 1 around 1:47 ET, Khloé Kardashian tweeted, "What would you do if you found out a friend was stealing from you?"
She then added, "Would you cut off the friendship and let God handle it? Or would you go the legal route?"
We all jumped to conclusions thinking she meant her bestie Malika, to which she responded, "No guys! Malika is my sister! Never ever ever! We ride for life."
OK, OK, OK, but if it's not the one friend the whole universe knows about then who is it, Khloé?!
It's not like she could potentially have other people in her life that we, the entire United States of America, don't know about, right?!
One theory, according to fans on Twitter, is that she could be referring to long-term Kardashian family stylist, Monica Rose.
In a recent appearance on Watch What Happens Live, Andy Cohen asked Kim Kardashian why she and all of her sisters recently and suddenly unfollowed Rose after years of working together.
Kim remained vague and said she personally wanted to switch up her look when she met Kanye, but otherwise everyone should "ask Khloé."
Hmmm...
If I were Khloé, I'd probably cut those ties, tell everyone on social who it is (because I'm a drama queen like that), and just go keep being rich, famous, and better than everyone around me.
But also, what do I know. I'm not a Kardashian or anything.
Whoever you stealing jerk is, BE GONE!
Citations: Khloe Kardashian Tweets About Friend Stealing (People)