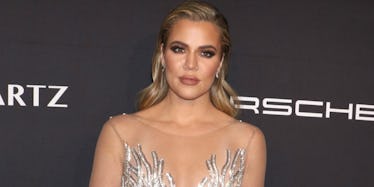 Khloé Kardashian Has 5 Easy Tips For Keeping Off The Holiday Weight
REX/Shutterstock
Let's face it. When it comes to eating at holiday parties, I have as much restraint as the Hamburglar in front of a pile of hamburgers.
Thankfully, our fitness messiah Khloé Kardashian is here to spread not only good cheer, but her good tips for making sure you don't pack on the lbs. these last few weeks of December.
On her personal website Khloewithak.com, the reality star outlined five steps for making sure you don't gorge yourself on Christmas cookies to the point of literally becoming the Christmas cookie monster.
This is literally me every December...
Khloé says that it's all about trying to "find a balance," and that you don't need to be "completely restricting" in your diet.
Without further ado, here are Khloé's five tips to making it through the countless holiday parties you've been invited to without adding too much weight to your scale:
1. Make sure you eat before the big holiday party.
On this subject, Khloé could not be clearer. If you show up to the party, shaking from low blood sugar, asking where the cocktails wienies are, you're doing this all wrong.
Khloé writes,
Don't show up to a party completely starving and be tempted to immediately stuff your face with unhealthy hors d'oeuvres. You'll also have more time to socialize when you arrive without your stomach growling.
Come prepared to be tempted.
2. Get your fitness on in the morning.
Coming home from work and the only workout you want to do is lift up your Amazon Fire stick? Then, dial back your alarm, and realize that the early bird gets the worm... the worm of being in shape in time for New Year's.
Khloé writes,
I always get my workouts out of the way first thing in the morning. This way, I'm so much less likely to bail for other plans that come up. If you're on the rush, try fitting in this 10 minute workout!
Once you've worked out, you can enjoy the rest of the day... and eggnog.
3. Pick a healthier treat.
Want to gorge yourself on apple pie? Why not make it just an apple (and a pie chart)?
Khloé continues,
Not all sweets are created equal! If you're in the mood for dessert, try something a little lighter, like these peanut butter energy bites.
You must truly harness the power of peanut butter.
4. You snooze, you do the opposite of lose.
Hey, party animal, get some shuteye, yeah? Khloé knows that as much as we love to get lit this holiday season, we need to make sure we're catching our REM cycles.
She adds,
When I get a full night's sleep, I always have fewer cravings and more energy for my workouts. It's a win-win all around! If you're out late celebrating, try to make sure you clock in at least 8 hours the next night. Balance, boo!
Making sure you're not a lumpy sack full of candy canes and Christmastime regret is all about balance.
5. Eat healthy snacks first.
Celery comes first, 18 Gingerbread Men sent to their tasty demise in your mouth hole come second.
Khloé writes,
When you hit the buffet table at a holiday party, first fill up your plate with healthy options. Round two can be for the naughty food, but by that point you won't be as likely to overindulge. Even then, I suggest only taking one of everything at a time. I mean if I have 5 brownies in front of me, sh*t WILL go down! LOL.
Khloé is right. If I have five brownies in front of me, I'm literally an insane person. These five steps are all I need not to become a biscotti-addicted holiday gourmand.
Citations: MY 5 TIPS FOR STAYING FIT DURING THE HOLIDAYS (KhloeWithAK.com)