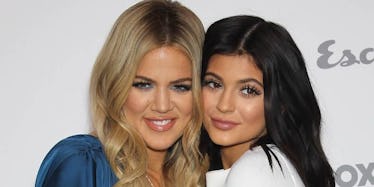 Khloé Kardashian Confesses Fear She Will Be 'Failing Sister' Compared To Kylie
REX/Shutterstock
Being a Kardashian is a lot of pressure... mostly because it seems like everyone in the world is so vocal about which sister is their favorite, or haters are just straight-up rooting for their business ventures to fail.
And all that pressure and public comparison got to Khloé Kardashian with the launch of her own business.
In a new promo clip from this Sunday's "Keeping Up with the Kardashians," Khloé breaks down about her fear that everyone will compare her new denim business to sister Kylie Jenner's ultra-successful Lip Kit franchise and if her jeans don't sell well enough she'll be labeled the failing Kardashian.
Starting your own business is stressful enough, but having to worry about it being overshadowed by your famous family on top of that is keeping Khloé up at night.
In the clip, the reality star reveals she hasn't been sleeping well as she awaits for her Good American denim line to launch, and Kylie's huge success is one of the main reasons she's so nervous.
I know we're not necessarily competing against each other, but still, I have always been known as the fat sister and now that I'm over that I don't want to be known as the failing sister.
As you can saee, Khloé freaks out over the number of jeans she'll need to sell in order to make Good American a success, and compares that to the hundreds of thousands of Lip Kits Kylie sells in a matter of minutes.
Thankfully, Kourtney is on hand to try to talk her sister down. Check out the clip below.
Luckily for Khloé, all that worry wound up being for nothing.
Her Good American denim line launched back in December, making $1 million in its first day and solidifying it as the most successful denim launch ever.
Citations: Khloe Kardashian Worries Good American Won't Be as Successful as Kylie Cosmetics: I Don't Want to Be the "Failing Sister" (E! News)