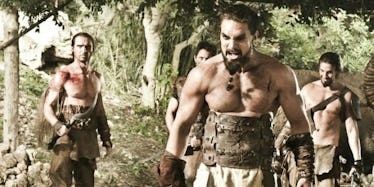 Khal Drogo Says This Is The New Show 'Game Of Thrones' Fans Need To Watch
HBO
Khal Drogo has spoken.
Jason Momoa, who played Khal Drogo on the HBO hit "Game of Thrones," recently sat down for an interview with CBS News to talk about his role on the new Netflix show "Frontier."
According to Momoa, who plays Declan Harp on the show, "Frontier" will basically be like the new "Game of Thrones," which means "GoT" fans are going to want to make sure they tune in.
Speaking with CBS News about his new show, Momoa said,
I love the time period. I definitely have a large collection of sharp objects and furs from that time period. And I'm half and half, and Declan being half-Irish and half-native, it's nice to have something like that in the time period. It's very cool that they have this half-breed in there, hellbent on seeking revenge on the man who raised him and took his family from him. It's a perfect little role written for me.
Momoa spoke about his character, Declan Harp, and how the role felt perfect for him.
He said,
I either perfectly fit or I'm not going to make it in there. For a role like Drogo -- kinda made for it. A role like Declan is rarely written. Generally, I'm not going to be standing next to a bunch of leading men. I'm not hired to stand next to Tom Cruise. It's been a challenging path and it's found its way.
The 37-year-old also revealed how "Frontier" will be the perfect show for you to watch if you're a big "Thrones" fan.
He said,
'Game of Thrones' viewers will definitely tap into it. I mean it's definitely got that vibe to it. One hundred percent. It's kind of a thing where [fans will say], ''Game of Thrones' is not on for next year. That's OK, 'Frontier' is here. Khal Drogo's dead but he's not -- he's on 'Frontier.'' I do some pretty bloody stuff. He speaks English so you can understand a bit more but it's pretty savage. The time period is savage.
A "savage" show with shades of "Game of Thrones"? Yeah, I'm definitely in.
Momoa dropped a rather interesting tidbit about how his role in "Game of Thrones" may have actually set his career back. He said,
It's tough because I don't really know if it helped changed my career. I have a lot of people come up to me now that love it but Drogo doesn't speak a lot of English, so there are not a lot of Drogo characters that fit in other roles. So I don't know if people know what to do with me and it didn't bring up a lot of work so I went and directed my own movie, tried to get something not so action-based and then I got 'Red Road,' which got me into Sundance and people spoke English and wore clothes. It's tough because you get respected, but I wouldn't say it brought me major work.
I don't know about you, but that last quote only makes me more excited to watch "Frontier."
Citations: Jason Momoa on why "Game of Thrones" fans will love "Frontier" (CBS News)