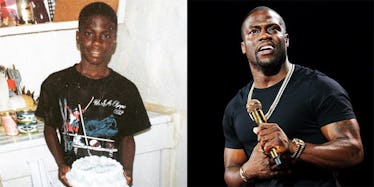 How Kevin Hart Went From Broke To Hollywood's $40 Million Comedian
Instagram
Before Kevin Hart was selling out arenas and starring in damn near every movie, he was just a kid from Philly with some big dreams.
When someone reaches great success, people often forget about the journey it actually takes to get there, but that's something Hart never lets go of.
At 36 years old, Kevin Hart is one of the most accomplished actors in Hollywood and with a net worth of $40 million, he's still taking the no-days-off approach that got him where he is today.
Believe it or not, there was a point in time when the funny man was broke. A lot has changed since then.
Whether he's starring in a new movie with The Rock or modeling as the new face of H&M with David Beckham, this man is on his grind.
But it's nothing that he hasn't been doing since he first got started.
Kevin Hart was raised in Philadelphia by his single mother and older brother, Robert.
With his father battling with drug addiction and going in and out of jail, Kevin used joke-telling as an escape.
But from an early age, he knew he wanted to be a comedian.
He knew that by doing what he loved, he could take care of the family that did everything they could to take care of him.
While working as a shoe salesman, he first started doing standup under the name "Lil Kev."
It didn't go so well. He got booed offstage several times and once even had a raw piece of chicken thrown at him.
Kevin Hart never gave up and started developing his style, mostly making fun of his own height of 5'4".
Soon, he became one of the most popular comedians in the country and started earning roles in movies.
You might remember his first role as CJ in the 2002 film "Scary Movie 3"...
Or in 2004, when he made his big debut as the leading man in the classic "Soul Plane."
His comedy career was on a meteoric rise with more roles in films like "Paper Soldiers" and "Along Came Polly," all while still doing standup.
In 2007, Kevin Hart's mother died from cancer, but not before she left him with many lessons.
He would continue to pursue his dreams and star in films like "Little Fockers," and kill it in "The 40-Year-Old Virgin."
His role in every film was nearly perfect, but it wasn't until he began touring that he became a true rock star.
In 2011, his comedy tour "Laugh At My Pain" grossed over $15 million.
With celebrity friends like Shaq showing up to his shows, Kevin Hart was becoming larger than life.
And I mean, everybody was f*cking with this man!
Not to mention, he's somehow won every single Celebrity All-Star game for the past five years.
Today, Kevin spends most of his time working and taking care of his two children...
And enjoying the fruits of his labor, which includes Ferraris.
Of course, Kevin Hart only flies private!
That's what you get once you start selling out arenas to tell jokes.
If you go to the movies this summer, you're more than likely to see him on the screen...
Or spot him on a billboard somewhere with David Beckham.
He's currently filming "Central Intelligence" with The Rock, and it's already a must-see.
And he's busy being the man where ever the f*ck he goes.
Not bad for some kid from Philly.
In this Instagram post, Kevin Hart perfectly explained where he came from.
Holy shit....my brother just sent me this picture....now before y'all start killing me let me break this picture down for you guys!!!!! This picture makes me miss the shit out of my mom. This picture shows you guys where I am from and what I had....it was damn near nothing but my mom did a great job of loving the shit out of me and that made me happy!!! This was my birthday and all I wanted was a cake and she made me one. Look closely at this picture....there is tuna fish and sardines on the kitchen sink....that's what I was raised on. There is a piece of card board right above my head, that's suppose to be a kitchen cabinet. My bed room was right next to the kitchen...it was actually a hallway with bunk beds in it. There is also duck tape on the side of the kitchen sink that my mom put there to keep the roaches away from the plates and the food. This is why I will never let this business change me....I came from nothing and I'm glad because that is what made me the man that I am today!!!! I love and miss you Nancy Hart....thank you for being such a amazing mother and friend and teacher!!!!!