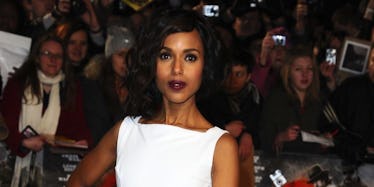 Kerry Washington Rocked Her Baby Bump In Cutout Gown On Emmys Red Carpet
Shutterstock
Let's not let how amazing Kerry Washington looked on the Emmys red carpet make us emotional, except SHE IS ABSOLUTELY GLOWING, AND I AM WEEPING FOR MY FUTURE CHILDREN AND THE CHANGES THEY WILL ONE DAY BRING TO MY WOMANLY FORM.
*INCOHERENT SOBBING*
Kerry Washington showed up on the 2016 Emmys red carpet looking like she was late for the world's most gorgeous coven.
.@kerrywashington is SLAYING the maternity style game. #Emmys pic.twitter.com/bTDavOA1AT — InStyle (@InStyle) September 19, 2016
Nominated for Outstanding Lead Actress in a Limited Series for her role as attorney and activist Anita Hill in HBO's "Confirmation," Kerry shared some insight on the life-changing experience with E! News at a New York screening.
She said,
I didn't expect to process so much of my own experience of gender and how gender has influenced my existence in the world in terms of power… Yeah, sort of some personal things I'm not really sure I feel comfortable talking about, but yeah, I actually did not expect for her, for playing her, to change me as much as it did.
In tow at Sunday's award show was Kerry's yet unborn second child, looking super cute but ultimately totally obscured by his or her mom's stunning cutout dress and admirable talent.
Fans love her look, H to T.
Can we give the Emmy to Kerry Washington's hair, please?! — DeevaDonna (@DreeTV) September 19, 2016
Things Kerry Washington just did.... THAT!!!!! pic.twitter.com/YaS6pFNb9d — Kalivia Pope (@formidablekay) September 18, 2016
Keep slaying, Ker.
Citations: Pregnant Kerry Washington Turns Heads for All the Right Reasons on 2016 Emmys Red Carpet (E! News)