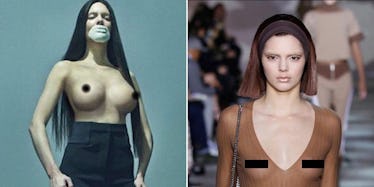 There's No F*cking Way These Are Kendall Jenner's Real Boobs (Photos)
Getty
Yesterday, we told you about Kim Kardashian's nudity-filled spread in LOVE magazine.
Today, we're telling you about her sister Kendall's nudity-filled spread in the same publication.
It seems members of the Kardashian clan just can't keep their clothes on in print publications.
In this latest leaked photo, Kendall Jenner can be seen topless with a ceramic mask over her face.
The odd thing here, though, is the body clearly does not belong to Kendall. This is a painfully obvious Photoshop job, and I wonder if it's intentional by LOVE.
I guess we'll have to wait to find out when this issue of LOVE hits the shelves.
For now, you can check out the not safe for work pic below.
Kendall Jenner in the LOVE Magazine. pic.twitter.com/fgsGqrS2jc — KimKanyeWestDaily (@KimYeWest12) February 4, 2015
And here's proof these are definitely not her boobs:
And even further proof:
Update: Love Magazine Fashion Director Panos Yiapanis confirmed the breasts are indeed not those belonging to Kendall Jenner. Rather than photoshop, the shoot utilized prosthetic breasts.