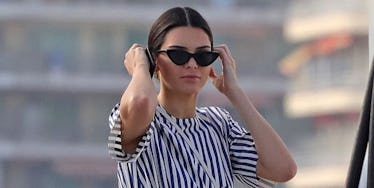 Kendall Jenner's Retro Bikini Throwback On Instagram Is So, So Cute
J. Almasi
Since it's Memorial Day and the unofficial start of summer, you're probably thinking about purchasing a new bathing suit for upcoming beach days (you and I are totally in the same boat).
If you're looking for some inspiration, Kendall Jenner is here to provide. The model is totally slaying a vintage vibe, according to her recent Instagram post.
She was thinking pink and posed alongside a flamingo floatie in this ruffled, high-waisted number on what appears to be a boat deck.
This timeless look is certainly adorable... but expensive. The Lisa Marie Fernandez piece has a $420 price tag (sorry to disappoint).
All of the bathing suits I've ever owned in my lifetime might be $420, but a girl can dream (and search for an alternative).
This old-school look might have you dashing to ModCloth or your neighborhood Buffalo Exchange for a similar style, but before you do, let Kenny's many bathing suit Instagram shots be your guide.
She and Kourt are lounging in metallic blue and pink pastels in this pic.
In my opinion, it screams Romy and Michele — you know, the inventors of PostIts.
Remember these two lovely ladies who rocked their high school reunion?
This classic white one-piece is simple and elegant.
With my luck, I'd wear it for a summer BBQ and end up with ketchup from my burger all over the place.
Here's more proof that one-piece suits can be just as lovely as the bikinis.
I'd take off my watch before diving into a pool with this number, but I digress.
And when your beach days turn into beach nights, get a cute little wrap like this.
We told you Kenny has the whole swimsuit thing on lock.
You're going to have a busy few months — going to new places, hosting get-togethers, so a bathing suit is a beach-bag must
Citations: Kendall Jenner (Instagram)