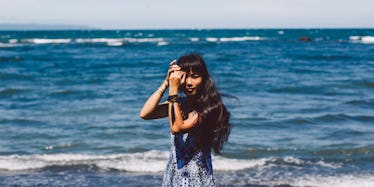 Unique Summer Getaways That Don't Require A Passport Or A Lot Of Time Off
Nabi Tang
With summer on the horizon just weeks away, it's time to start planning those summer vacations. While the warm weather is great and the sunny days are long, not all of us have time to head off on a far-away adventure in a foreign country.
Many of us are lucky just to have a long weekend with an extra day or two off. However, just because our vacation might have to be short doesn't mean it has to be boring.
To help you plan an exciting, unique vacation, I have gathered the three top weekend destinations that will fill your days with all sorts of adventures, no passport required.
Coastal Maine
Who knew Maine could be an exciting spot to visit? Spend your weekend at a luxurious resort, such as Cliff House Maine.
Whether you're hoping to take an inspiring hike, master that new yoga pose, or simply relax at the spa, a visit to coastal Maine will have you feeling refreshed and revitalized.
Spending your getaway in Maine means mornings engaging in coastal yoga flow, cozy nights spent by the fireplace, and adventurous days exploring Southern Maine and its hidden gems. Take a trip to the beach, explore Cape Neddick and Ogunquit, or discover one of the nearby rocky coves on a classic crossover bicycles.
Hike the beautiful marginal way with breathtaking views of the coastline. And if adventure's not your style and you'd rather just relax, visit The Spa at Cliff House Maine, which showcases only the best in beauty and wellness practices.
Coastal Maine offers something different from just a classic beach trip, and will give you just what you need to go back to work or school feeling inspired, rejuvenated, and relaxed.
Disney World
Whether it's Disney World or Disney Land, heading to a Disney park for the weekend is never a bad idea. Disney has a plethora of resorts to choose from, some extravagant, and others budget friendly, depending on what you're looking for.
Spend a day at your favorite Disney park, then spend another day lounging by the pool, sipping a piña colada and snacking on endless Mickey Bars.
You don't have to spend all of your time at the parks or at your resort; there are countless things to do on Disney property aside from just going to the parks.
You can go bike riding through Fort Wilderness, horseback riding through Disney trails, shopping at Disney Springs, a stroll around the Boardwalk.
And if there is one thing Disney is known for, it's its food!
Do a little research on the restaurants Disney offers so you can plan out where to eat your favorite Disney-inspired, flavorful meals. Have breakfast at the Polynesian resort (their Tonga Toast is to die for!) and dinner at the Beauty and the Best restaurant in Magic Kingdom (get the grey stuff- it's delicious!). For a snack, Edie's ice cream Sundaes on Main Street in the Kingdom is the way to go, or try ice cream stuffed macaroons in France at Epcot.
Disney offers something for everyone, whether you're with you friends, family, or significant other, and is the most magical way to spend your long weekend.
Jersey Shore
Many years have passed since Jersey Shore made its debut on our televisions, causing us to think of the shore as a giant train wreck of a place (looking at you Snooki).
However, contrary to popular belief, it's actually quite the opposite. Towns such as Sea Isle City and Ocean City, offer picturesque beaches, charming promenades, boardwalks, and endless activities.
Visit Morey's Peer and taste their famous Polish water ice, spend a day at the water park and fly down slides right on the ocean's edge, rent some kayaks and explore the bay, and be sure to watch the sunset at Sunset Beach near Cape May. The Jersey Shore has a lot to offer, and caters to whatever type of getaway your looking for -- be it relaxing and peaceful, or exciting and wild.
Wherever you decide to spend your long weekend, visiting one, or all, of these locations will fill your summer with endless memories to daydream about once you go back home.